< Click to Listen to Podcast >
< Updated 09FEB21 >
< A short link for this page – http://bit.ly/WfMw-SpayNeuter2020 >
If you are wondering if you should spay or neuter your pet, and when to do so, may find this podcast helpful.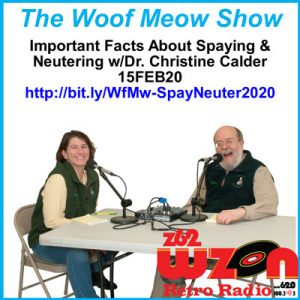 Not so many years ago, the consensus opinion was that spaying and neutering pets early was necessary to control pet overpopulation. Evidence also suggested spaying/neutering reduced the risk of various cancers and the development of certain behavioral problems such as aggression and marking. Today, the evidence is less clear. In fact, if you ask five different pet professionals if you should spay or neuter and when to do it, you may get multiple opinions even from the same individual.
Before you decide whether to spay or neuter your pet, the best thing you can do is take the responsibility to do some research and to consider the information that is available. Your decision may depend on many factors; species, breed, your individual pet, lifestyle/situation, and even where you live. Did you know that in some countries it is illegal to spay/neuter a pet, or that, in some of those same countries animal shelters and rescues are unnecessary because they do not have homeless pets? As for the health and behavioral pros and cons of spaying and neutering they can go both ways.
For this show, which first aired on February 15th, 2020, Kate and Don invited Dr. Christine Calder, a veterinary behaviorist, who also spent fifteen years as a general practice veterinarian, to help us sort through the latest information on spaying and neutering so that you will know what to ask and consider when you discuss whether to spay your pet with their veterinarian. Our podcast page will include links to several articles you may find helpful, but be advised they do not encompass all the information on the risks and benefits of spaying and neutering your pet.
Contact Info for Dr. Calder
Business: Calder Veterinary Behavior Services
Address:
Phone: (207) 298-4375
Email: reception@caldervbs.com
Website:  www.caldervbs.com
Facebook Page: https://www.facebook.com/Christine-Calder-DVM-DACVB-Veterinary-Behaviorist-104864721012254/
More info on Dr. Calder
From the January 2020 issue of Downeast Dog News – https://downeastdognews.villagesoup.com/p/what-is-a-veterinary-behaviorist/1846547
Podcast – Introducing Dr. Christine Calder, Maine's 1st Veterinary Behaviorist – http://bit.ly/WMw-DrCalderVetBhx
For Reference
Reexamining the early spay-neuter paradigm in dogs, dvm360, 2019, Dr. Mike Petty and  Dr. Mark Goldstein, – https://www.dvm360.com/view/reexamining-early-spay-neuter-paradigm-dogs
Are There Behavior Changes When Dogs Are Spayed or Neutered?, Stanley Coren, PhD., DSc, FRSC, Canine Corner, Psychology Today – https://www.psychologytoday.com/us/blog/canine-corner/201702/are-there-behavior-changes-when-dogs-are-spayed-or-neutered
Long-Term Health Risks and Benefits Associated with Spay/Neuter in Dogs, Laura J. Sanborn, M.S., dogs naturally blog, – https://www.dogsnaturallymagazine.com/long-term-health-risks-benefits-spay-neuter-dogs/
Behavioral and Physical Effects of Spaying and Neutering Domestic Dogs (Canis familiaris), Summary of findings detailed in a Masters thesis submitted to and accepted by Hunter College by Parvene Farhoody in May 2010. – http://www.naiaonline.org/uploads/WhitePapers/SNBehaviorFarhoodyZink.pdf
Behavioural risks in male dogs with minimal lifetime exposure to gonadal hormones may complicate population-control benefits of desexing, McGreevy PD, Wilson B, Starling MJ, Serpell JA, 2018, PLoS ONE 13(5): e0196284, – https://www.ncbi.nlm.nih.gov/pmc/articles/PMC5931473/
Long-Term Health Effects of Neutering Dogs: Comparison of Labrador Retrievers with Golden Retrievers, Hart BL, Hart LA, Thigpen AP, Willits NH 2014, PLoS ONE 9(7): e102241. doi:10.1371/journal.pone.0102241 – https://www.ncbi.nlm.nih.gov/pmc/articles/PMC4096726/
You can hear The Woof Meow Show on Z62 Retro Radio, AM620, and WKIT HD3 at 9 AM on Saturday. If you are not near a radio, listen on your computer at http://bit.ly/AM620-WZON or your smartphone or tablet with the free WZON 620 AM app. A podcast of the show is typically posted immediately after the show. You can download this show and others at http://woofmeowshow.libsyn.com/ , at Don's blog http://bit.ly/Words-Woofs-Meows and the Apple iTunes store.
©15FEB20, Donald J. Hanson, All Rights Reserved
< Click for Copyright and Use Policy >