This article first appeared in the May 2015 edition of the Downeast Dog News.
<You can listen to a companion podcast to this article, first broadcast on The Woof Meow Show on the Voice of Maine on May 2, 2015, by clicking here>
Trust. Before becoming part of the pet care service industry I found it essential to get to know someone very well before entrusting them with the care of my pets. It's a character trait that I find essential when leaving my pets in the care of someone other than myself. I need to be confident that my furry family members will be cared for to my standards.
I find that those of us that work with pets professionally are often trusted without a great deal of questions. Many seem to assume that because we work with animals that we will care for their pet the same way that they would. While
I believe that is true for me and my staff at Green Acres, there are people in the pet care services industry where that can be a dangerous assumption, as noted below.
Last month a post came through on my Facebook feed with the title "Unauthorized Use of Shock Collar Angers Dog Owner." It referenced a story reported by KSNV My News 3 in Las Vegas which discussed a pet owner who left their dog with a pet sitter, only to come home and to discover that the pet sitter had used a shock collar on their dog. The dog's owner had not been told this would happen, nor would it have been something they would have authorized. The dog's owners were rightfully upset and angry and were stunned that something like this could happen. This is exactly the type of behavior in the pet care service industry that I was warning pet owners about in my last column. And yes, this type of thing has happened in Maine, more than once.
When I share stories like the one above the usual response I get is moral outrage followed by "How can something like this happen?" That's when I explain what I feel are three reasons why this can and does happen.
The pet care service industry is minimally regulated if regulated at all. Regulations typically only occur at the state and/or municipal level and often only focus on a facilities cleanliness, amounts of space and a pet's physical care. A pet's mental or emotional well-being is simply not covered in most regulations. Here in Maine, pet boarding facilities are regulated but there is no professional standard of knowledge that is legally required of the people that own and manage and care for the pets that they board. For example, there is no standard that says a boarding kennel operator needs to be knowledgeable about; pet first aid and CPR, canine social behavior, feline social behavior, species specific communication, and the supervision of animals in group play. Those that do not offer boarding but only provide daycare, group play, pet sitting, grooming and training are essentially not regulated at all. Just because someone likes dogs and has had a dog of their own does not mean that they have the knowledge and experience to safely care for the pets of others.
Pet parents assume, with good intentions, that everyone in the pet care industry has the requisite knowledge and experience to properly care for pets, loves pets, and wouldn't intentionally do anything harmful to a pet. That is a dangerous assumption and as I noted in last month's column there are some questions a pet parent should always ask before leaving their pet in someone else's care.
The pet care industry does not currently have a universally accepted standard of care that encompasses the physical, mental and emotional well-being of pets. Fortunately that is changing with the advent of the Pet Professionals Guild, the first international organization to be committed to being "The Association for a Force-Free Pet Industry"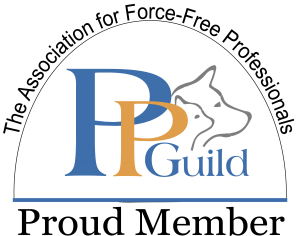 The Pet Professional Guild (PPG) was founded by Niki Tudge in 2012. PPG's focus started on dog training and the need to help the industry move beyond the out-dated concepts of dominance and coercion/punishment based training. Today the PPG is open to all in the pet care services industry as well as pet owners. In a recent interview on The Woof Meow Show, Ms. Tudge described PPG as a place where professionals could come together and help each other, support each other, learn from each other, and network. Additionally, she described PPG as a meeting place where pet owners could access those pet professionals that share their values. She stated: "It is a place where we can advocate for how we believe our pets should be trained and cared for."
At the heart of the Pet Professionals Guild commitment to force-free pet care is their "Guiding Principles." A pet care professional can only become a member if they agree to abide by these principles which are clearly stated on the PPG website. Section one states: "To be in anyway affiliated with the Pet Professional Guild all members must adhere to a strict code of conduct. Pet Professional Guild Members Understand Force-Free to mean: No shock, No pain, No choke, No fear, No physical force, No physical molding, No compulsion based methods are employed to train or care for a pet." To me that's pretty clear and fits right in with how we have officially defined "pet friendly" at Green Acres for years. Based on feedback we get from our clients at Green Acres,' I'd say a significant  majority of pet parents are looking for pet care providers that comply with this type of standard but as I've noted before, people need to ask to make sure providers do indeed actually comply with these standards.
On the May 2nd/3rd edition of The Woof Meow Show Niki, Kate and I discussed the growth of doggie daycare and the lack of professional standards and regulations. We discussed how supervising dogs playing together requires extensive knowledge and training in order to keep dogs safe and to make sure that every dog is having a good time. Niki indicated that PPG will be launching an accreditation program for dog trainers, behavior consultants and other pet care professionals in the coming months. Green Acres' has developed its own extensive training program for our staff but we look forward to learning more about PPG's move towards industry wide standards because we know they are necessary so that all families can feel comfortable when they leave their pet in someone else's care.
The Pet Professional Guild was founded in 2012 and in less than three years has grown to over 4000 members across 27 countries. Pet owners can join for free and get access to webinars, some free, the PPG publication "Barks From The Guild," and other great articles.
The Pet Professional Guild website (http://www.petprofessionalguild.com/) can also be a valuable resource for pet owners to find trainers, boarding facilities, daycares, groomers and others that share PPG's force-free philosophy and that have committed to abide by PPG's Guiding Principles. If the couple in the news story "Unauthorized Use of Shock Collar Angers Dog Owner" had selected a PPG professional member, their dog wouldn't have ended up wearing a shock collar.
If you're a pet owner/parent I encourage you to join PPG. What have you got to lose, it's free! If you are a provider of services to pets (boarding kennel, daycare, pet sitter, dog walker, groomer, trainer, behavior consultant, vet tech and veterinarian) I encourage you to take the pledge to commit to force-free pet care by joining PPG and supporting other force-free pet professionals.
Next month I'll wrap up this series with a discussion of what veterinary clinics are doing to make your pet's visit to the vet fear-free.
Links to the other two parts of this series can be found below.
Selecting A Pet Care Provider – Yes! A Trend Towards Kinder and Gentler Professional Pet Care – Green Acres Kennel Shop's "Pet Friendly" Philosophy – Part 1 – <Click Here>
Selecting A Pet Care Provider – Yes! A Trend Towards Kinder and Gentler Professional Pet Care – A Veterinary Perspective – Part 3- <Click Here>
______________________________________________________________________________
Don Hanson is the co-owner of the Green Acres Kennel Shop (greenacreskennel.com) in Bangor. He is a Bach Foundation Registered Animal Practitioner (BFRAP), Certified Dog Behavior Consultant (CDBC), Associate Certified Cat Behavior Consultant (ACCBC) and a Certified Professional Dog Trainer (CPDT-KA). He produces and co- hosts a weekly radio show and podcast, The Woof Meow Show heard on The Pulse AM620 WZON and streamed at http://www.wzonradio.com/ every Saturday at 9 AM. A list of upcoming shows and podcasts of past shows can be found at www.woofmeowshow.com. Don also writes about pets at his blog: www.words-woofs-meows.com.
©2015, Donald J. Hanson, All Rights Reserved <Click for Copyright and Use Policy>