< Click to Listen to Podcast >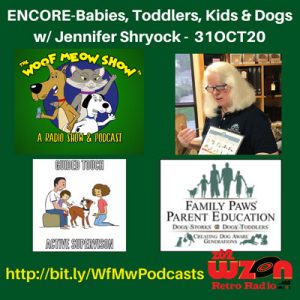 < Updated 31OCT20 >
< A short link for this page
–  bit.ly/WfMw-Kids_Dogs-28MAR20 >
In this episode of The Woof Meow Show from March 28th, 2020, Kate and Don have a conversation with Jennifer Shryock about keeping children and dogs safe. We believe this podcast will be especially useful to anyone called upon to supervise the interactions between a child and a dog. This podcast is not just for people with kids and dogs. Any professional that works with parents, children, and dogs can benefit from this information.
Jennifer Shryock is the founder of Family Paws Parent Education and is an excellent resource for helping parents manage a home with a little human and a canine. As a mother, pet parent, teacher, and Certified Dog Behavior Consultant, Jennifer knows how to help mom, dad, a child, and the dog live in harmony.
In this show, we discuss the behaviors dogs need to learn to perform reliably and the fact that training a dog takes time. Prepping the dog and your home for the arrival of the baby should begin many months ahead of time. If the dog has anxiety or fear issues, working with a veterinary behaviorist may be essential and should start even earlier than training. Jennifer discusses the importance of parents learning how to familiarize themselves with carrying an infant while interacting with the dog and recommends that be done before the child ever comes home.
You can hear The Woof Meow Show on Z62 Retro Radio, AM620, and WKIT HD3 at 9 AM on Saturday. If you are not near a radio, listen on your computer at http://bit.ly/AM620-WZON or your smartphone or tablet with the free WZON 620 AM app. A podcast of the show is typically posted immediately after the show. You can download this show and others at http://bit.ly/WfMwPodcasts , at Don's blog http://bit.ly/Words-Woofs-Meows and the Apple iTunes store.
< Click to Listen to Podcast >
Contact Info for Jennifer
Organization: Family Paws Parent Education
Address: 141 Brannigan place. Cary, NC 27511
Phone: 919.961.1608
EMAIL: jen@familypaws.com
Website: https://www.familypaws.com/
Facebook Page: https://www.facebook.com/FamilyPawsParentEd/
YouTube: https://www.youtube.com/user/familypaws
Instagram: #familypawsofficial
Recommended Resources
Free Downloadable Handouts from Family Paws
Click on the title to view/download as a PDF
Behaviors your dog needs to know
How to Choose a Dog Trainer – http://bit.ly/HowToChooseADogTrainer
Reward Based Training versus Aversives – http://bit.ly/RewardVSAversive
 Alone Training – http://bit.ly/AloneTraining
Teaching the ATTENTION or LOOK Behavior – http://bit.ly/GAKS-Attention
Teaching The Name Game – http://bit.ly/TeachingTheNameGame
What Should I Do When My Dog Does Not Let Me Take Something They Have Stolen and Snaps or Tries to Bite Me? – http://bit.ly/StealGuardGrowlSnap
What Should I Do When My Dog Growls? – http://bit.ly/DogGrowls
Podcast – The Benefits of Training Your Dog and 2020 Classes at Green Acres Kennel Shop – http://bit.ly/WfMw-Training2020
Podcast – How to Choose A Dog Trainer (2017) – http://blog.greenacreskennel.com/2017/01/08/how-to-choose-a-dog-trainer/
Podcast – Kids & Dogs with Colleen Pelar – part 1 – http://traffic.libsyn.com/woofmeowshow/WoofMeowShow-2007-02-11-LivingwithKidsDogs-part-1.mp3
Podcast – Kids & Dogs with Colleen Pelar – part 2 – http://traffic.libsyn.com/woofmeowshow/WoofMeowShow-2007-02-18-LivingwithKids-Dogs-part2.mp3
Podcast – Dogs and Babies with Jennifer Shryock from Family Paws Parent Education – http://traffic.libsyn.com/woofmeowshow/WoofMeowShow-2013-08-17-Dogs_and_Babies_w-Jennifer_Shryock_.mp3
Books
A Kids' Comprehensive Guide to Speaking Dog! by Niki Tudge – http://bit.ly/BkRvw-KidsGuide-Tudge
Living with Kids and Dogs…Without Losing Your Mind: A Parent's Guide to Controlling the Chaos by Colleen Pelar – http://bit.ly/BkRwv-LvngKidsDogs-Pelar
©28MAR20, Donald J. Hanson, All Rights Reserved
< Click for Copyright and Use Policy >