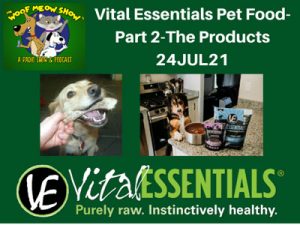 < Click to Listen to Podcast >
< Updated 18JUL21 >
< A short link for this page – https://bit.ly/WfMw-VE2-24JUL21 >
In this episode of The Woof Meow Show from July 24th, 2021, Kate and Don are again speaking with Joey Weichmann & Leslie Durocher about Vital Essentials pet food. Last week, we talked about the company. This week, we are looking at the many products available from Vital Essentials.
We start by discussing the  Vital Essentials Raw Bar, which is essentially a selection of freeze-dried appetizers and snacks for dogs and cats. Then we look at their comprehensive line of freeze-dried treats, including their number one seller, freeze-dried minnows. Lastly, we review Vital Essential's complete meals for cats and dogs, the available proteins, and the formats available as frozen raw and freeze-dried.
If you want to learn more about the company behind Vital Essentials, checkout last week's podcast.
< Click to Listen to Podcast >
Contact Info
Joey Weichmann & Leslie Durocher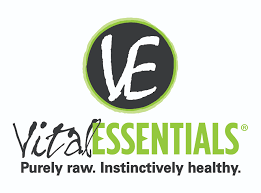 The Carnivore Meat Company – Vital Essentials
Address: P.O. Box 9227, Green Bay, WI 54308-9227
Phone: 800-743-0322
Email: customerservice@vitalessentialsraw.com
Website: https://www.vitalessentialsraw.com/
Facebook Page: https://www.facebook.com/VitalEssentialsRaw
Don Hanson & Kate Dutra
Green Acres Kennel Shop, ForceFreePets.com & The Woof Meow Show
Address: 1653 Union St, Bangor, ME 04401-2204
Phone: (207) 945-6841, x103
Email–Email Don
Website-Green Acres: https://www.greenacreskennel.com/
Facebook-Green Acres: https://www.facebook.com/GreenAcresKennelShop/
Website-The Woof Meow Show: https://woofmeowshow.libsyn.com/
Facebook-The Woof Meow Show: https://www.facebook.com/WoofMeowShow/
Website-ForceFreePets–https://forcefreepets.com/
Facebook-ForceFreePets–https://www.facebook.com/ForceFreePets
Recommended Resources
 Green Acres Pet Nutrition Resources Page – http://bit.ly/GAKS_Nut_Home
GAKS Philosophy on Pet Nutrition – http://bit.ly/GAKS_Nut_Phil
Pet Nutrition –Vital Essentials® Pet Food – https://bit.ly/VitalEssAtGAKS
Video The Science and Dogma of Pet Nutrition with Dr. Richard Patton – http://bit.ly/Video-Dr-Richard-Patton
Book Review – Ruined by Excess, Perfected by Lack – The paradox of pet nutrition by Richard Patton – http://bit.ly/RuinedByExcess-BookReview
 Vital Essentials Pet Food-Part 1-The Company-17JUL21 – https://bit.ly/WfMw-VE1-17JUL21
 Vital Essentials Pet Food-Part 2-The Company-24JUL21 – https://bit.ly/WfMw-VE2-24JUL21
Podcasts-Two Conversations with Animal Nutritionist Dr. Richard Patton – https://bit.ly/WfMw2wPattonAPR21
©18JUL21, Donald J. Hanson, All Rights Reserved
< Click for Copyright and Use Policy >