Pet Insurance – How to Choose A Provider
By Don Hanson, PCBC-A, BFRAP
< A version of this article is scheduled to be published in Pets and Their People  >
< A version of this article was published in the September 2022 issue of Downeast Dog News>
< Updated 23OCT22 >
< A short link for this page – https://bit.ly/PetInsurance-Choosing >
In my article Pet Health Insurance – Why It's A Good Idea, I discussed why I recommend every pet parent consider purchasing pet insurance, especially when their pet is young and before they have any preexisting conditions. In this article, I suggest what you want to consider before enrolling in any health insurance plan for your pet.
When we decided to purchase pet health insurance for Muppy in 2013, there were far fewer options than there are today. That also means it was not as complicated. There were fewer companies, and it was easier to find independent and unbiased reviews online. Today several major insurance companies are offering policies for pets as they see this as a financially lucrative market. Their participation could drive prices up or down. However, if you already have homeowners, renters, or auto policies with those companies, you may get a discount,
Also, as we see more veterinary practices purchased by corporate entities, they may recommend specific insurance in where they have a financial interest. That concerns me.
When you see articles online with a title like "The Best Pet Health Insurance for 2022," be aware that there is a distinct possibility the review is biased. You will find many such articles, and they seldom rate individual companies the same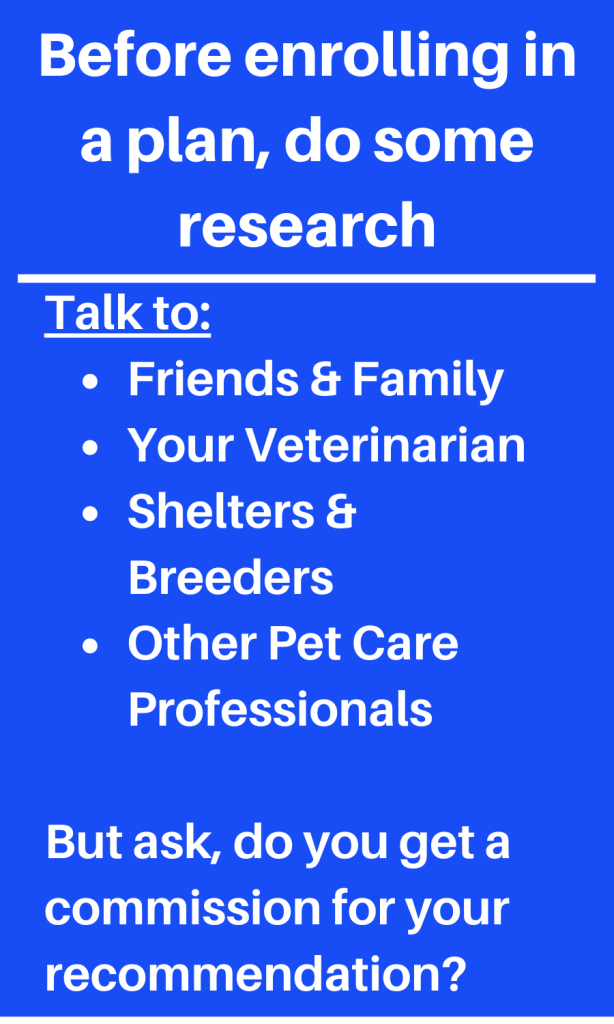 way. It's common for vendors of all sorts of products to use this technique to make their product looks like it is number one.
As you consider a provider, I first recommend choosing wisely for the long haul. Remember, once your pet has been seen for a health issue, they are unlikely to be covered by insurance because it is a preexisting condition. If you are insured when something occurs, you will likely need to stay with that insurer to maintain coverage.
Don't select the first plan you see, the one that is cheapest, or the one your cousin, breeder, or favorite shelter recommended without doing your own research. A great place to start is by asking pet care professionals like your veterinarian, boarding kennel, daycare, groomer, and trainers about their experience with insurance. They may have their own experience and know other clients that have had good and bad experiences. Like hairdressers and bartenders, our clients often share with us.
However, also recognize that in some cases, pet care professionals, breeders, shelters, and rescues may receive compensation for recommending certain pet health insurance products. So don't be afraid to ask them if they fall into this category.
When talking to your veterinarian, ask if they have worked with the provider you are considering. As with human healthcare, you need your provider and insurer to work together. Insurers need information to process a claim, so you want to ensure your veterinarian can and will provide that information as required.
Speak to other people in your circle who have pets that might have pet insurance. What has their experience been?
Determine your budget and if you will be able to maintain payments moving forward. The price of your policy may increase. If you stop making payments and your pet has an issue being covered, you may lose that coverage forever.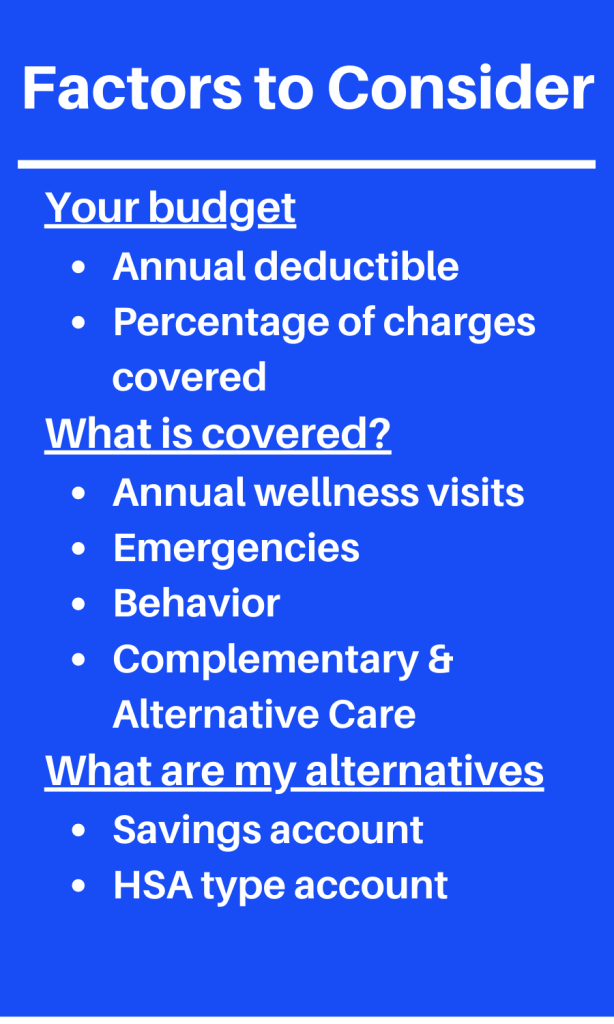 Assess what you want your plan to cover. You can purchase insurance that covers annual wellness visits; however, these are likely to be more expensive than a plan that only covers emergencies. Some plans may offer discounts for multiple pets, while others may limit the maximum annual payout. If complementary therapies are essential to you (acupuncture, Chinese medicine, Chiropractic, and Homeopathy), make sure they are covered by the plan you select. Lastly, read the fine print before signing or paying for anything.
Before purchasing a plan, consider your alternatives. If you are good at budgeting and setting aside money in a bank account for your pet, that may be all you need. However, recognize that veterinary emergencies can cost thousands of dollars, so it may take you a while to build that account. There are also products available for pets, just like a Health Savings Account (HSA) would work for us.
In summary, it is unlikely that the cost of veterinary care for a pet will decrease. To help make sure you can pay for your pet's care, consider pet health insurance or its alternatives before you need it. You and your pet will be glad you did.
________________________________________________________________________
Don Hanson lives in Bangor, Maine, where he is the co-owner of the Green Acres Kennel Shop ( greenacreskennel.com ) and the founder of ForceFreePets.com, an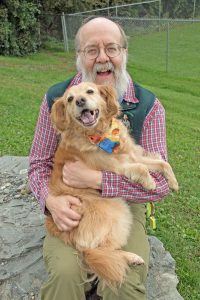 online educational resource for people with dogs and cats. He is a Professional Canine Behavior Consultant (PCBC-A) accredited by the Pet Professional Accreditation Board (PPAB) and a Bach Foundation Registered Animal Practitioner (BFRAP). Don is a member of the Pet Professional Guild (PPG), serving on the Board of Directors and Steering Committee and chairing the Advocacy Division. He is also a founding director of Pet Advocacy International (PIAI). In addition, Don produces and co-hosts The Woof Meow Show podcast, available at http://bit.ly/WfMwPodcasts/, the Apple Podcast app, and Don's blog: www.words-woofs-meows.com. The opinions in this article are those of Don Hanson.
©23OCT22, Donald J. Hanson, All Rights Reserved
< Click for Copyright and Use Policy >