<Updated 2MAR17>
This article first appeared in the April 2015 edition of the Downeast Dog News.
<You can listen to a companion podcast to this article, first broadcast on The Woof Meow Show on the Voice of Maine on April 11, 2015, by clicking here>
Leaving your dog at a boarding kennel, doggie daycare, grooming salon, training facility, veterinary clinic or even leaving them at home with a pet sitter is not a decision you should make lightly. The question you need to ask yourself is: what happens once you are gone? How will your pet be treated? Will your pet be comfortable and relaxed during their stay with their caregivers? While there are many wonderful facilities that could easily and honestly answer that your furry companion is in great hands; this is not true for all. However, it is with great relief that I can say with some confidence that we are beginning to see a trend toward kinder and gentler professional pet care. Today, the terms "pet friendly," "force-free," and "fear-free" are becoming much more commonplace in our industry.
In 2012, the Pet Professional Guild was founded in an effort to "provide educational resources to pet trainers and professional pet care providers and advocates for mutually agreed guiding principles for the pet care industry.  PPG partners, members and affiliates focus on each pet's physical, mental,
environmental and nutritional well-being adhering to a holistic approach to the care and training of family pets." In a nut shell, the ultimate goal of the PPG is to be "The Association for a Force-Free Pet Industry." At the same time, thanks to the efforts of the late Dr. Sophia Yin and Dr. Marty Becker, veterinarians are learning how they too can make your pet's visit to their office a fear-free experience.
Nevertheless, the reality is that the terms "pet friendly," "force-free" and "fear-free" have no legally binding definition. These standards are voluntary and not mandated by any regulatory agency so it is still a case of "buyer beware." Even though many facilities are licensed by the state, nothing in the law requires staff training or that a facility focus on minimizing stress and anxiety for the animals in their care. Nor do these laws restrict facilities from using aversives such as squirt bottles, citronella collars or other confrontational techniques. It is in your pet's best interest that you have a discussion with any prospective pet care provider before leaving your pets in their care. The following are some questions that you should ask:
Is your staff trained in canine behavior, body language and stress signals?
How will you handle the situation if my pet is scared or fearful?
What do you do if my dog barks while they stay with you?
How does your staff respond if a pet growls?
How is the staff trained to respond if my dog jumps on them?
Will my pet interact with other pets that are not part of their family? If so, how will these interactions be supervised?
Are punishers, such as squirt bottles, ever used?
Will my pet ever wear a shock, citronella, choke or prong collar while with you?
Would your staff ever attempt to dominate or alpha-roll my dog?
During peak times, do you overbook? Is there a chance my pet will be boarded in a crate instead of an indoor/outdoor run?
At what point do you stop a nail trim or a grooming if the dog is showing signs of stress and discomfort? How and when do you decide if an animal will be muzzled?
Are you and your staff members of The Pet Professional Guild and do you follow their "Force-Free" philosophies?
The following is a recent example of how we worked with a dog boarding at Green Acres for the first time:
A new dog arrived for its first boarding stay. It was placed in its indoor/outdoor kennel. Immediately the dog began to back away and growl at staff when they attempted to approach it to take it outside. The pet care technician on duty contacted the manager who then came to assess the situation. Very slowly, and allowing the dog to do all the approaching, the manager was able to hook the dog to its own leash and the dog was taken for a walk to get an opportunity to assess the environment. The dog was walked on leash several times the first couple of days, by multiple staff members, until it reached a point where it was very relaxed and comfortable in the kennel. In addition, a DAP/Adaptil (dog appeasing pheromone) diffuser was plugged in near this dog's kennel.
On this dog's final day, it was scheduled to have a grooming. The dog was very good for the bath, but when it was time for the nail trim, it immediately tensed and became agitated. The decision was made to not to do the nails. The dog in question had progressed so far, from being absolutely terrified on day one to having a good stay, and we did not want to undo that progress. It was imperative for this dog's future kenneling experiences that this first visit end on a good note, and forcing a nail trim would not have been beneficial to the mental health of the pet.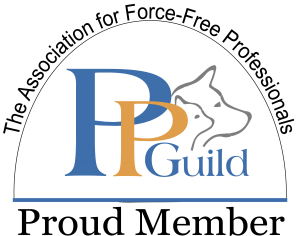 While we understand, and even expect, that a trip to the boarding kennel, groomer or veterinarian will have some associated stress for your animal, the onus is on those of us in the industry to make these visits as relaxing and fear free as possible. These changes need to happen system wide and here at Green Acres we call upon all other facilities to join the movement and become pet friendly facilities and we also call upon you, the consumer, to see that it happens.
For more information on Green Acres philosophies on "Pet Friendly" pet care, visit our website and look for our position statements on Pet Friendly Pet Care and Position on the Use of Dominance and Punishment for the Training and Behavior Modification of Dogs.
Next month, we will go into a discussion about the Force-Free philosophy of The Pet Professional Guild and their efforts to educate pet guardians and the pet care services industry about force-free pet care. In addition, we will explore what veterinary clinics are doing to make your pet's visit to the vet fear-free.
Links to the other two parts of this series can be found below.
Selecting A Pet Care Provider – Yes! A Trend Towards Kinder and Gentler Professional Pet Care – The PPG – Part 2 – <Click Here>
Selecting A Pet Care Provider – Yes! A Trend Towards Kinder and Gentler Professional Pet Care – A Veterinary Perspective – Part 3- <Click Here>
Green Acres' First Statement on Being A Pet Friendly-Facility – <Click Here>
______________________________________________________________________________
Don Hanson is the co-owner of the Green Acres Kennel Shop (greenacreskennel.com) in Bangor. He is a Bach Foundation Registered Animal Practitioner (BFRAP), Certified Dog Behavior Consultant (CDBC), Associate Certified Cat Behavior Consultant (ACCBC) and a Certified Professional Dog Trainer (CPDT-KA). He produces and co- hosts a weekly radio show and podcast, The Woof Meow Show heard on The Pulse AM620 WZON and streamed at http://www.wzonradio.com/ every Saturday at 9 AM. A list of upcoming shows and podcasts of past shows can be found at www.woofmeowshow.com. Don also writes about pets at his blog: www.words-woofs-meows.com.
©2015, Donald J. Hanson, All Rights Reserved <Click for Copyright and Use Policy>