< Return to Maine Events Menu >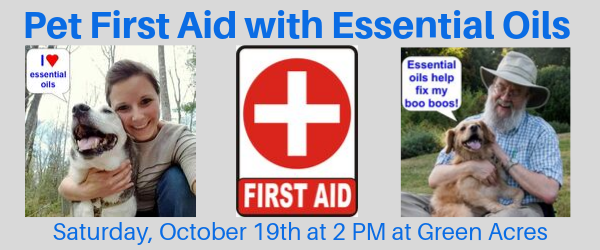 < Updated 26SEP19 >
< Short link – http://bit.ly/EVNTEssOilOCT19  >
On Saturday, October 19th at 2 PM Rachael Pelletier and Don Hanson will teach you how to use pure essential oils for basic first aid for both your pets and yourself. This class has been developed by a veterinarian and includes handouts on how to use oils safely with pets.  You will learn how these natural options can support physical and emotional health. Participants will make a healing spray with essential oils as part of the workshop.
Rachael earned a bachelor's degree in Animal Science from the University of Maine and has experience in animal care. She maintains a Facebook page at Rachael's Life Essentials.
Don Hanson is a Certified Dog Behavior Consultant, and an Associate Certified Cat Behavior Consultant. He is also the producer and co-host of The Woof Meow Show and the editor and author of the blog Words, Woofs and Meows.  The blog is all about dogs, cats, their people, and the relationships that they share. Posts include information about; animal behavior, animal training, animal husbandry, health and wellness, pet nutrition, animal welfare, and just living with cats and dogs.
Rachael and Don are excited to share their knowledge and expertise in creating a safer home environment and using natural options to care for your pets.
Tickets may be purchased at EventBrite ( https://www.eventbrite.com/e/74300509825 ) or Facebook ( https://www.facebook.com/events/428192854497234  )
For more information email donh@greenacreskennel.com