< Updated 23FEB20 >
< A short link for this page – http://bit.ly/WhyWeLikeMyPerfectPet >
We discovered My Perfect Pet at an industry tradeshow in September of 2019. After doing our due diligence and evaluating My Perfect Pet we test fed it with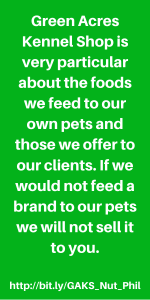 some of the Green Acres staff pets as well as some clients who volunteered to give it a try. As a result of that process, we knew the My Perfect Pet blends and the company and people behind My Perfect Pet represented the type of product we wanted to offer to you. In a recent press release, Green Acres co-owner, Don Hanson stated:
"Common sense, as well as science, tells us that fresh, minimally processed foods offer the best nutrition for us, as well as our pets. The My Perfect Pet blends provide pets with excellent nutrition, whether fed exclusively or as part of a rotation diet and Muppy and Boomer find it delicious! When we add a brand of food to our offerings, we also want to know about the company and the person making the decisions. When My Perfect Pet owner, Karen Neola, told us 'My Perfect Pet is an independent family-owned business founded with a mission to improve pet health through education and nutrition and to put pet health over profits' I knew we had found exactly the type of partner Green Acres can count on and can support."
What We Like Best About My Perfect Pet
The quality of the ingredients – All of the ingredients used in My Perfect Pet blends come from suppliers who exclusively sell human-grade food, the same companies that supply restaurants and high-end grocers. The protein sources used in My Perfect Pet include eggs and quality cuts of muscle meat and organs; beef (round & liver), turkey (breast, thigh, & heart), chicken (breast & thigh), lamb (shoulder), and wild salmon (filet). A variety of fresh vegetables (broccoli, carrots, celery, collards, green beans, kale, potatoes, spinach, & yams), cranberries, and kelp contribute important micro-nutrients and vitamins and these ingredients are also fit for human consumption. Lastly, My Perfect Pet incorporates freshly baked whole grain brown rice in their blends instead of adding artificial supplements. Whole grain brown rice provides a wealth of natural vitamins and minerals essential in the dog's diet, along with fiber and a number of antioxidants, and phytochemicals to promote a healthy digestive tract, cardiovascular system, liver function, and immune system. Antioxidants including vitamin E, tocotrienols, selenium, phenolic acids, and phytic acid are available in immediate-release to slow-release forms and thus are available throughout the gastrointestinal tract over a long period after being consumed.
Look below and you will see images that show you exactly what the raw ingredients and finished product look like.
Ingredients are sourced locally whenever possible, and all are from the USA with the exception of the lamb which comes from New Zealand or Australia and coconut oil from the Philippines.
No ingredients are purchased from companies that sell "animal feed-grade" ingredients" or ingredients not fit for human consumption.
All ingredients are Gluten Free, Non-GMO, and free of preservatives.
All food ingredients and vitamin supplements are natural per AAFCO guidelines. Ingredients are purchased only from qualified human food suppliers in their fresh, whole or raw state. Raw meats, poultry and fish have been skinned and deboned, but not subjected to any rendering, hydrolysis, enzymolysis, fermentation, chemical or synthetic processing. Natural vitamins are derived solely from plant or animal sources. Minerals are chelated or otherwise compounded to improve bioavailability and absorption
During our Woof Meow Show interview with My Perfect Pet owner Karen Neola, she told us that when they are making the food, it was not unusual for her and her staff to make themselves lunch from the exact same ingredients used in My Perfect Pet blends. [ FMI –

Click to listen to our podcast

]

The minimal processing – My Perfect Pet blends are cooked per FDA food and safety guidelines to eliminate pathogens, removing the concern some might have about feeding fresh food. My Perfect Pet is cooked at much lower temperatures than either kibble or canned food, making it more nutritious, digestible, and delicious. While we still recommend raw diets and feed them to our own pets, in addition to My Perfect Pet blends, we believe that My Perfect Pets gently-cooked process makes sense, especially for anyone uncomfortable feeding raw.
The variety of proteins – We recognize and recommend the importance of dietary rotation for optimal health, and My Perfect Pet makes that practice easy with a wide variety of formulas. [ FMI – The Wisdom of Rotating Your Pets Diet – Part 1 –

http://bit.ly/DietRotation1-30JUL19

]
Transparency – If you know me, you know the lack of transparency and intentional deception in the pet food industry really annoys me. For example – there are kibble and canned food products that display prime cuts of meat on their packaging and when you read the ingredient labels you know that is not what is really in the food. When you look at the My Perfect Pet images (below) you know that those cuts of meat really are in the food. But transparency is about more than images. Pet food companies are required, by law, to publish AAFCO Dry Matter Nutrient Profiles; however, that is only half of the story. My Perfect Pet goes one step further than what the law requires and publishes the "As Fed" nutrient profiles, including carbs because they believe that is the right thing to do. Thank you!
Formulated By Experts to Meet All Regulatory Requirements – My Perfect Pet works with a wide variety of nutritional experts to formulate their blends and verifies that they meet all AAFCO and NRC requirements and confirms that they meet the nutrient profiles published on the label. They have 13 years of proven results.
Realistic – Due to the high quality of the ingredients in the My Perfect Pet blends, it is going to be more expensive than kibble or dry pet food. Like Green Acres, My Perfect Pet recognizes that not everyone will be able to feed My Perfect Pet at every meal; however, even if you can only feed your pet fresh food on an intermittent basis, your pet will still benefit.
Karen Neola, Founder & Owner of My Perfect Pet – As Karen explained in our Woof Meow Show interview and as she does on the My Perfect Pet website, Karen started cooking for her own dogs after losing her Labrador Retriever to contaminated commercial dog food.

"I vowed never again to buy commercial pet food and started making my own, using only fresh whole, natural and safe ingredients – the same quality I trusted for myself.  I immersed myself in research on dog and cat nutrition and worked with nutritionists, veterinarians, universities and health care experts to create the perfect blend of all-natural high-quality ingredients that provide maximum nutrition for dogs and cats with the least processing and highest safety.  I did not start with any intent to build a business, it just kept growing."
"My Perfect Pet is an independent family-owned business founded with a mission to 'improve pet health through education and nutrition' and to put pet health over profits.   We didn't start with a business plan; we started with a mission to teach pet parents how to make healthier choices for their pets and to deliver the same whole food nutrition to their pets that we know is best for the rest of the family.  We don't answer to equity investors, only to our conscience. As long as my name is associated with My Perfect Pet, we will never compromise on the quality or integrity of our products."
Nutrient Profiles – Cat Blends –
https://www.myperfectpetfood.com/store/assets/pdf/PROFILES_Cat_Blends.pdf
Nutrient Profiles – Standard Dog Blends – 
https://www.myperfectpetfood.com/store/assets/pdf/PROFILES_Std_Adult_Dog.pdf
Nutrient Profile – Buckaroo Puppy Blend – 
https://www.myperfectpetfood.com/store/assets/pdf/PROFILES_Puppy_Blend.pdf
Nutrient Profiles – Personal Care Dog Blends
https://www.myperfectpetfood.com/store/assets/pdf/PROFILES_Personal_Care_Dog_Blends2019.pdf
Images of My Perfect Pet Blends
Cat Formulas
Dog Formulas
Recommended Resources
Our Philosophy on Pet Nutrition – http://bit.ly/GAKS_Nut_Phil
Why Rotating Diets Makes Sense – http://bit.ly/DietRotation
The Wisdom of Rotating Your Pets Diet – Part 1 – http://bit.ly/DietRotation1-30JUL19
The Wisdom of Rotating Your Pets Diet – Part 2 – http://bit.ly/DietRotation2
________________________________________________________________________
Don Hanson is the co-owner of the Green Acres Kennel Shop ( greenacreskennel.com ) in Bangor, ME where he has been helping people with their pets since 1995. He is a Bach Foundation Registered Animal Practitioner (BFRAP), Certified Dog Behavior Consultant (CDBC), Associate Certified Cat Behavior Consultant (ACCBC) and a Certified Professional Dog Trainer (CPDT-KA). Don is a member of the Pet Professional Guild (PPG) and is committed to PPG's Guiding Principles and the Pain-Free, Force-Free, and Fear-Free training, management, and care of all pets. Don produces and co-hosts a weekly radio show and podcast, The Woof Meow Show, that airs on Z62 Retro Radio WZON (AM620) and WKIT 103.3-HD3 and is streamed at http://bit.ly/AM620-WZON every Saturday at 9 AM. Podcasts of the show are available at http://woofmeowshow.libsyn.com/, the Apple Podcast app, and at Don's blog: www.words-woofs-meows.com.  The opinions in this post are those of Don Hanson.
©23FEB19, Donald J. Hanson, All Rights Reserved
< Click for Copyright and Use Policy >