< Updated 23FEB20 >
< A short link for this page – http://bit.ly/BeckerTudgeFEB20 >
Dr. Karen Becker interviews Niki Tudge the founder of the Pet Professional Guild (PPG) and discusses why and how Tudge decided to launch what is today an 8000+ member organization of pet care professionals committed to the training,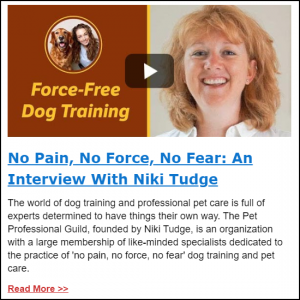 husbandry, and management of pets that is Pain-Free, Force-Free, and Fear-Free as outlined in the PPG Guiding Principles. The Pet Professional Guild is an organization grounded in science, facts, and ethics committed to education. I encourage any pet care professionals to join and support the PPG and suggest that anyone with pets looking for a pet care professional start their search at the PPG's Find A Professional page.
Tudge describes the Guiding Principles as "…how do we behave towards animals, how do we behave towards our industry, and then how do we behave towards our customers? She elaborates on the PPG's philosophy of no pain, no force, and no fear and how PPG has defined force as "…any approach that causes physical or emotional fear with the intent of damaging" while also emphasizing that it is essential to give the dog a choice to interact in the training process, and if the dog is not enjoying the process we need to modify our approach.
Becker and Tudge discuss various PPG programs, including the PPG's junior membership, which has three levels for children; 8 to 12, 13-17, and then an apprentice level for young adults 18 to 20 years of age.  If you have a child that is interested in dogs, I strongly encourage you to enroll them in this program, especially if they are interested in a career working with companion animals.
The interview also introduces PPG's brand new Pet Rescue Resources Program, which is a free program targeted to shelters and resources, which will include guidelines, videos, handouts for protocols that they need to have in place to provide the best possible care for the homeless pets in their charge.
One of the best comments from the interview, "Dr. Becker: You allow your dogs to be dogs, I think is the best way to say that."
You can view the video of this interview at https://healthypets.mercola.com/sites/healthypets/archive/2020/02/23/no-fear-training-for-dogs.aspx
Recommended Resources
Dr. Karen Becker Interview with Niki Tudge – https://healthypets.mercola.com/sites/healthypets/archive/2020/02/23/no-fear-training-for-dogs.aspx
Transcript of Dr. Karen Becker Interview with Niki Tudge – https://mercola.fileburst.com/PDF/HealthyPets/Interview-NikiTudge-ThePetProfessionalGuild.pdf
The Pet Professional Guild – https://www.petprofessionalguild.com/
The Pet Professional Guild Guiding Principles – https://www.petprofessionalguild.com/PPGs-Guiding-Principles
The Pet Professional Guild Find A Professional Page – https://www.petprofessionalguild.com/Zip-Code-Search
PPG Junior Membership – https://www.petprofessionalguild.com/Junior-Members