Don Hanson has loved dogs for as long as he can remember. After a 17-year career in the medical device industry, Don and his wife Paula joined the ranks of pet care professionals when they purchased the Green Acres Kennel Shop in Bangor, Maine, in 1995. Since then, Don, his wife Paula, and their team of employees have been offering pet-friendly boarding, daycare, grooming, training classes, behavioral consultations, and the sale of wholesome pet food and quality supplies to pet lovers in the greater Bangor community. However, in addition to providing and selling services and products, Don and Paula felt it was essential that an equally important part of our mission was to be a resource for reliable, scientifically-based, and holistic information on pet care, behavior, and training
Green Acres Kennel Shop and ForceFreePets.com comply with the Pet
Professional Guild's (PPG) Guiding Principles and Code of Ethical Conduct, the American Animal Hospital Association's (AAHA) 2015 AAHA Canine and Feline Behavior Management Guidelines, and the American Veterinary Society of Animal Behavior (AVSAB) Humane Dog Training Position Statement releases in 2021. We are committed to the No Pain, No Force, No Fear philosophy of companion animal care and training.
In the Spring of 2022, Green Acres Kennel Shop was accepted as an Organizational Member of Pet Industry Advocacy International (PIAI) [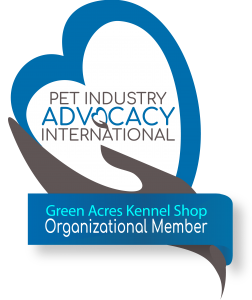 https://www.petadvocacy.info/ ]. ForceFreePets is a member of PIAI through employee memberships in the Pet Professional Guild, also a founding member of PIAI.
"I've been a part of this industry since 1995. Since then, science has led us to better understand our pet's physical and emotional needs. But sadly, the pet industry's ethics have not kept pace with the science. Methods and tools that are now known to be abusive and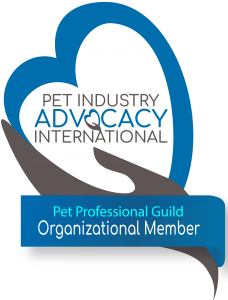 detrimental to the welfare of our pets are still in use. So I am excited there is now an international organization, PIAI, that will stand up for pets and their people by working to make this industry more ethical and transparent. I know many other like-minded pet care organizations in Maine, both commercial and non-profit, feel the same way, and I invite them to join PIAI. In addition, I hope pet parents/guardians/owners, whatever they wish to call themselves, will start choosing PIAI affiliated members when seeking care for their pets." – Don Hanson
Don is credentialed by the Pet Professional Accreditation Board (PPAB) as a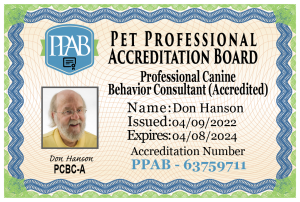 Professional Canine Behavior Consultant-Accredited (PCBC-A). He also holds a credential as a Bach Foundation Registered Animal Practitioner (BFRAP) by the Bach Foundation.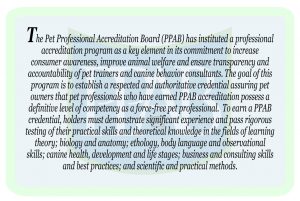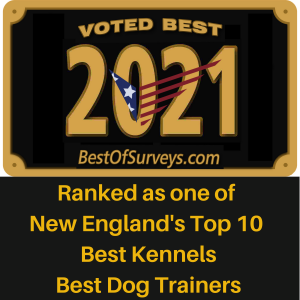 Green Acres has been consistently voted the best kennel, best pet store, best dog trainer, and best pet groomer in the region for several years and in 2020 was recognized as one of the Top 10 Best Kennels and Top 10 Best Dog Trainers in Best Businesses of America's 21st annual Best of New England ratings.
Don has been very active in the pet community, serving on the Bangor Humane Society Board of Directors from 1996-2011, including five years as its President.
He was recruited to serve on the Association of Professional Dog Trainers (APDT) Education Committee in 1998. This group developed the first certification exam for professional dog trainers in 2001. Don was elected to serve on the APDT Board of Trustees for nine years (2002-2007, & 2011-2013) and served three years as the Board Chair (2007, 2011, & 2012). In October of 2014, the APDT recognized Don as the Dr. Ian Dunbar Member of the Year.
In early 2015 Don discovered The Pet Professionals Guild (PPG), an association committed to pain-free, force-free, and fear-free pet
care. The PPG philosophy aligned perfectly with what Don had been calling "pet-friendly" pet care. Since neither the APDT nor any other pet care professional association was as forward-thinking and ethically sound as the PPG, Don resigned from his APDT membership and became a member of the PPG. Don believes so strongly in PPG's mission that all members of his staff at ForceFreePets and Green Acres Kennel Shop are enrolled as members as soon as they have completed their staff training.
Don currently serves on the PPG Board of Directors, Steering Committee, and as the PPG Advocacy Committee and Shock-Free Coalition Chair.
In April of 2022, Don became one of the four founding directors of Pet Industry Advocacy International (PIAI). PIAI is a coalition of informed, ethical,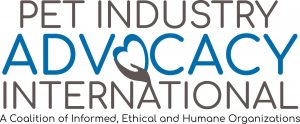 and humane organizations committed to professionalizing the pet industry through ethics, consumer protection, and professional competency.
Don is especially interested in complementary and alternative medicine and became the first Bach Foundation Registered Animal Practitioner (BFRAP) in the Americas in 2003.
In 2004 Don was asked to produce and host a weekly radio show on pets, The Woof Meow Show. The show focuses on educating people about dogs,
cats, their behavior, health care, nutritional needs, and their relationship with their people. Hosted by Don Hanson and Kate Dutra of the Green Acres Kennel Shop, The show was broadcast weekly from 2002 through January of 2022.
Today The Woof Meow Show is part of ForceFreePets.com. Previous and current podcasts be downloaded at our podcast page < click here > or the Apple iTunes store.
Also part of the ForceFreePets.com family, Don's blog ( www.words-woofs-meows.com ) contains articles Don has written for Downeast Dog News, BARKS from the Guild, Pets and Their People, the APDT Chronicle of the Dog, Maine Dog Magazine, Off Lead & Animal Behavior, and The Maine Edge. You can find a list of his publications at < click here >.
Don writes articles for his blog ( www.words-woofs-meows.com ) and has a monthly column in the Downeast Dog News. His articles have also appeared in
the APDT Chronicle of the Dog, BARKS from the Guild, Maine Dog Magazine, Off Lead & Animal Behavior, and The Maine Edge. You can find a list of his publications at < click here >
Committed to continuing education, Don attends a variety of conferences, seminars, and webinars every year.  He has also presented workshops on pet behavior, dog training, pet nutrition, and Bach Flower Remedies in Canada, the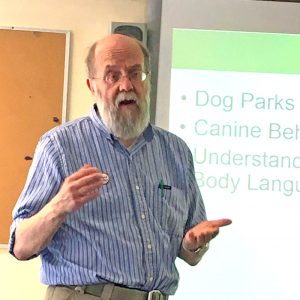 Caribbean, Japan, and throughout the US.
Since becoming the co-owners of Green Acres Kennel Shop in 1995, Don and his wife, Paula, have emphasized that providing validated and helpful information to clients and the public was crucial for Green Acres' mission. Through ForceFreePets.com, Don is working to implement that mission beyond Maine. His podcast (The Woof Meow Show) and his blog (Word, Woofs, & Meows) are now part of ForceFreePets.com.
More About Don
Don's CV & CEUs – http://bit.ly/Dons-CEUS
Don's Speaking Engagements – http://bit.ly/Dons-Presentations
Don's Publications – http://bit.ly/Dons-Publications
Don Hanson Interview by Roman Gottfried (JUL2019) – https://youtu.be/XePCAcA3KPA
Don Hanson Interview by Courtney Emken and Bart Emken of Dogboy's Dog Ranch (OCT2020) – https://www.facebook.com/watch/?v=3779342092078190
< Updated 03AUG21 >