< Click to Listen to Podcast >
< Shareable Short Link to this page >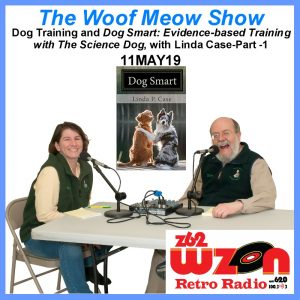 In this first of a two-part series, Kate and Don interview dog trainer and author Linda Case about her book Dog Smart: Evidence-based Training with The Science Dog. When Don read and reviewed Linda's book last December < Click to read review > he stated "If you love dogs or work with those who love dogs, you need to read this book!" and he knew we needed to get Linda to talk about her book on The Woof Meow Show.
In this first episode we discuss some of the foundational material in the book such as the damage done by the myth of dominance, pack hierarchy and violence focused training, why your dogs breed matters, the importance of socialization and how it is often misunderstood, and the importance of understanding canine body language.
If you want to learn about your dog and how to live together happily, you will want to listen to this show and read Linda's book.
You can hear The Woof Meow Show on Z62 Retro Radio, AM620, and WKIT HD3 at 9 AM on Saturday. If you are not near a radio, listen on your computer at http://streamdb7web.securenetsystems.net/ce/index.cfm?stationCallSign=WZON or your smartphone or tablet with the free WZON 620 AM app. A podcast of the show is typically posted immediately after the show. You can download this show and others at http://woofmeowshow.libsyn.com/ and the Apple iTunes store.
< Click to Listen to Podcast >
#WoofMeowShow #LindaCase #ScienceDog #DogTraining
Contact Info
Linda P. Case, MS
AutumnGold Consulting and Dog Training Center
Mahomet, IL
(217) 586-4864
https://www.facebook.com/pg/LindaCaseAutumnGold/posts/
https://thesciencedog.wordpress.com/
Recommended Resources
Dog Training and Dog Smart: Evidence-based Training with The Science Dog, an interview with Linda Case, Part 2 – http://bit.ly/WfMw-LCase-18MAY19
Book Review – Dog Smart: Evidence-based Training with The Science Dog by Linda P. Case – http://bit.ly/BkRvw-Case-DogSmart
Things I Wish I Had Known Before I Started Training Dogs – Gus, the Dominance Myth, An Alpha Roll, and a Damaged Relationship – WWM-SEP2018 – http://bit.ly/Things-Gus-Dominance
Dominance: Reality or Myth –  http://bit.ly/Dominance-RealityorMyth
Things I Wish I Had Known Before I Selected My First Dog – Aversives are Unnecessary and Counter-Productive When Training A Dog – Part 1 – WWM-JAN2019 –  http://bit.ly/Things-Aversives-1
Things I Wish I Had Known Before I Selected My First Dog – Aversives are Unnecessary and Counter-Productive When Training A Dog – Part 2 – WWM-FEB2019 –  http://bit.ly/Things-Aversives-2
Dog Training – Reward Based Training versus Aversives –  http://bit.ly/RewardVSAversive
Puppy Socialization and Habituation – http://bit.ly/SocializationPuppy
Does My Dogs Breed Matter? – Parts 1, 2 & 3 – WWM JUL2017 thru WWM SEP2017 – http://bit.ly/DoesDogBreedMatter
Introduction to Canine Communication – http://bit.ly/CanineComm
Podcast – The Dominance and Alpha Myth (2010) – http://bit.ly/WfMw-Dominance-2010
Podcast – Is Feeding A Grain-Free Food to Our Dogs Dangerous?, with Linda Case, MS – http://bit.ly/Podcast-FDA-Grain-Free-LindaCase-29SEP18
©12MAY19, Donald J. Hanson, All Rights Reserved
< Click for Copyright and Use Policy >