< Click to Listen to Podcast >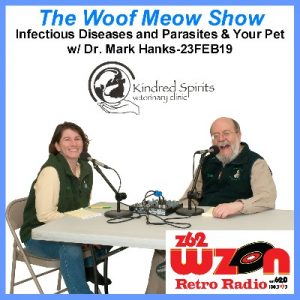 Don talks with Kindred Spirits Veterinary Clinic's Dr. Mark Hanks about infectious diseases and parasites that affect our pets. We discuss Canine Lyme Disease and Anaplasma and other tick-borne diseases including diagnosis, treatment, and prevention. We also discuss parasites, and Dr. Hanks recommended annual fecal testing for pets. Tick-borne diseases have become a serious health issue for pets in people and Maine. If you want to learn more, you will not want to miss this show.
You can hear The Woof Meow Show on Z62 Retro Radio, AM620, and WKIT HD3 at 9 AM on Saturday. If you are not near a radio, listen on your computer at http://bit.ly/AM620-WZON or your smartphone or tablet with the free WZON 620 AM app. A podcast of the show is typically posted immediately after the show. You can download this show and others at http://woofmeowshow.libsyn.com/, at Don's blog http://bit.ly/Words-Woofs-Meows and the Apple iTunes store.
< Click to Listen to Podcast >
To Contact Dr. Hanks
Kindred Spirits Veterinary Clinic
857 River Road
Orrington, ME 04474-3603
(207) 825-8989
Email – reception@kindredvet.com
Website – http://www.kindredvet.com/
Facebook – https://www.facebook.com/kindredspiritsvet/
©23FEB19, Donald J. Hanson, All Rights Reserved
< Click for Copyright and Use Policy >