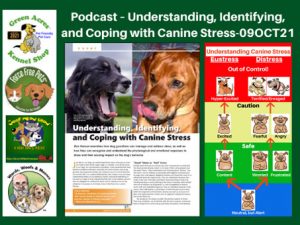 < Click to Listen to Podcast >
< Updated 17NOV21 >
< A short link for this page – https://bit.ly/WfMw-09OCT21-CanineStress >
In this episode of The Woof Meow Show from October 9th, 2021, Kate and Don discuss Don's article, Understanding, Identifying, and Coping with Canine Stress, published in the July 2021 issue of BARKS from the Guild and at  https://barksfromtheguild.com/article/understanding-identifying-and-coping-with-canine-stress/
< Click to Listen to Podcast >
Contact Info
Don Hanson & Kate Dutra
Green Acres Kennel Shop, ForceFreePets.com & The Woof Meow Show
Address: 1653 Union St, Bangor, ME 04401-2204
Phone: (207) 945-6841, x103
Email–Email Don 
Website-Green Acres: https://www.greenacreskennel.com/
Facebook-Green Acres: https://www.facebook.com/GreenAcresKennelShop/
Website-The Woof Meow Show: https://woofmeowshow.libsyn.com/
Facebook-The Woof Meow Show: https://www.facebook.com/WoofMeowShow/
Website-ForceFreePets–https://forcefreepets.com/ 
Facebook-ForceFreePets–https://www.facebook.com/ForceFreePets
Recommended Resources
Understanding, Identifying, and Coping with Canine Stress – http://bit.ly/Canine-Stress, and July 2021 issue of BARKS from the Guild and at  https://barksfromtheguild.com/article/understanding-identifying-and-coping-with-canine-stress/
Animal Welfare – Assessing Pets' Welfare Using Brambell's Five Freedoms – http://bit.ly/Brambells-APDT2014
Do I Need a Dog Trainer or a "Behaviorist"? – http://bit.ly/WWM-Trainer-Behaviorist
Dominance: Reality or Myth – http://bit.ly/Dominance-RealityorMyth
Helping Your Dog Thrive with Brambell's Five Freedoms – http://bit.ly/Brambell-1thru5-PDF
Help! My Dog is Aggressive, Reactive, Fearful, Anxious, etc. – What do I do? – WWM – APR2017 – http://bit.ly/HelpDogAggx
How Can I Tell When My Dog Is Anxious or Fearful? – http://bit.ly/DogsSignsofFear
How to Choose a Dog Trainer – http://bit.ly/HowToChooseADogTrainer
Introduction to Canine Communication – http://bit.ly/CanineComm
Understanding Behavior; Why It Matters – http://bit.ly/AnimalWelfare-Behavior
Management of An Aggressive, Fearful or Reactive Dog – http://bit.ly/BhxManagement
Puppy Socialization and Habituation – http://bit.ly/SocializationPuppy
Reward Based Training versus Aversives – http://bit.ly/RewardVSAversive
What Is A Pet Behavior Consultant? – http://bit.ly/WhatIsPetBhxConsulting
What Is Dog Training – http://bit.ly/WhatIsDogTraining
Your Pet's Behavioral Health Is As Important As Their Physical Well-Being: The New AAHA Canine and Feline Behavior Management Guidelines – http://bit.ly/WWM_AAHA_Bhx
 Canine Behavior: Myths and Facts – http://bit.ly/WfMwK9Bhx-26MAR16
Pet Behavior, Vets & The AAHA Canine and Feline Behavior Management Guidelines with Dr. Dave Cloutier – http://bit.ly/WfMw-AAHA-Guidelines-13MAR16
The Dominance and Alpha Myth (2010) – http://bit.ly/WfMw-Dominance-2010
Other Online Resources
American Animal Hospital Association (2015.) AAHA Canine and Feline Behavior Management Guidelines – https://www.aaha.org/aaha-guidelines/behavior-management/behavior-management-home/
BCSPCA. (2016, June 28). Tip Tuesday: Tips for dealing with dog reactivity – https://www.youtube.com/watch?v=j1J8uuJi0Ys
 Garrod, D. (2019, November). Stress Matters. BARKS from the Guild (39) 36-39 – https://issuu.com/petprofessionalguild/docs/bftg_november_2019_online_edition_x_opt/36
Pet Professional Guild Finding A Professional (2020) – https://www.petprofessionalguild.com/Zip-Code-Search
Pet Professional Guild Guiding Principles (2012)  – https://www.petprofessionalguild.com/Guiding-Principles
Pet Professional Guild Position Statements (2012-2019) – https://www.petprofessionalguild.com/Position-Statements
Turid Rugaas – Calming Signals – The Art of Survival (2013)  – http://en.turid-rugaas.no/calming-signals—the-art-of-survival.html
Books
Brambell, R. (1965). Report of the technical committee to enquire into the welfare of animals kept under intensive livestock husbandry systems. London, UK: Her Majesty's Stationery Office.
Chin, L. (2020). Doggie Language: A Dog Lover's Guide to Understanding Your Best Friend. Chichester, UK: Summersdale Publishers
O'Heare, J. (2005). Canine Neuropsychology, 3rd edn. Ottawa, ON: DogPsych
Rugaas, T. (2005). On Talking Terms with Dogs: Calming Signals, 2nd edn. Wenatchee, WA: Dogwise
Strong, V. (1999). The Dog's Brain — A Simple Guide. Windsor, UK: Alpha Publishing
Tudge, N. (2017). A Kids' Comprehensive Guide to Speaking Dog! n.p.: Doggone Safe
________________________________________________________________________
Don Hanson is the co-owner of the Green Acres Kennel Shop ( greenacreskennel.com ) in Bangor, Maine, where he has been helping people with their pets since 1995. He is also the founder of ForceFreePets.com, an online educational resource for people with dogs and cats. Don is a Bach Foundation Registered Animal Practitioner (BFRAP), Certified Dog Behavior Consultant (CDBC), Associate Certified Cat Behavior Consultant (ACCBC), and a Certified Professional Dog Trainer (CPDT-KA). He is a member of the Pet Professional Guild (PPG). Don serves on the PPG Board of Directors and Steering Committee. In addition, he chairs the Advocacy Committee and The Shock-Free Coalition ( shockfree.org ). Don produces and co-hosts a weekly radio show and podcast, The Woof Meow Show, that airs on Z62 Retro Radio WZON (AM620) and WKIT 103.3-HD3 and is streamed at http://bit.ly/AM620-WZON every Saturday at 9 AM. Podcasts of the show are available at http://bit.ly/WfMwPodcasts/, the Apple Podcast app, and Don's blog: www.words-woofs-meows.com.  The opinions in this post are those of Don Hanson.