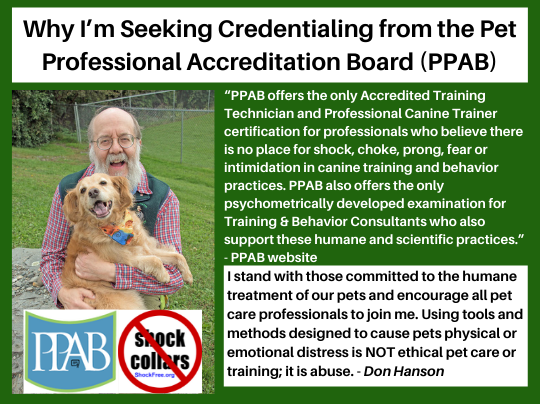 < Updated 27MAR22 >
< A short link for this page – https://bit.ly/DJH-PPAB >
I currently hold two dog training and behavior credentials. Unfortunately, the two organizations that issued those credentials believe that using a shock collar is acceptable. Their position is contrary to the science that indicates that aversives, such as shock, choke, and prong collars, are unnecessary and carry a significant risk of physical and emotional harm. To me, that is unacceptable. While I believe credentialing is vital to our profession, I am no longer comfortable being part of credentialing organizations that believe hurting pets in the name of care and training is okay. Therefore, I am seeking accreditation from the Pet Professional Accreditation Board (PPAB).
The PPAB believes that there is no place for shock, choke, prong, fear, or intimidation in canine training and behavior practices. They are not alone. The Pet Professional Guild (PPG), American Animal Hospital Association (AAHA), American Society of Veterinary Behavior (AVSAB), and Pet Industry Advocacy International (PIAI) have all taken positions, based on science, that state the use of aversive methods and tools in the training and care of pets is not only unnecessary but harmful.
I stand with those committed to the humane treatment of our pets and encourage all pet care professionals to join me. Using tools and methods designed to cause pets physical or emotional distress is NOT ethical pet care or training; it is abuse.
PPG – Pet Professional Guild Guiding Principles
AAHA – American Animal Hospital Association Canine and Feline Behavior Management Guidelines
AVSAB – American Veterinary Society of Animal Behavior Position Statement on Humane Dog Training
PIAI – A Coalition of informed, ethical and humane organizations
PPAB – https://www.credentialingboard.com/Accreditation-Board-Ethics-Code