< Click to Listen to Podcast >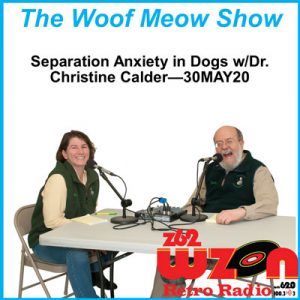 < Updated 09FEB21 >
< A short link for this page –
https://bit.ly/WfMw-SepAnxDrCalder >
In this episode of The Woof Meow Show from May 30th, 2020, Don talks with Veterinary Behaviorist Dr. Christine Calder about separation anxiety in dogs. Separation Anxiety is a panic disorder in dogs that cannot cope with being left alone. These dogs are not misbehaving to get revenge but are suffering.
During the show, we discuss separation anxiety and its symptoms, sharing experiences with mild and extreme cases. We discuss which dogs are more likely to suffer from separation anxiety and address other disorders that may have some of the same symptoms. We discuss treatment options and things one can do to prevent separation anxiety.
You can hear The Woof Meow Show on Z62 Retro Radio, AM620, and WKIT HD3 at 9 AM on Saturday. If you are not near a radio, listen on your computer at http://bit.ly/AM620-WZON or your smartphone or tablet with the free WZON 620 AM app. A podcast of the show is typically posted immediately after the show. You can download this show and others at http://bit.ly/WfMwPodcasts, at Don's blog http://bit.ly/Words-Woofs-Meows and the Apple iTunes store.
Contact Info for Dr. Calder
Business: Calder Veterinary Behavior Services
Address:
Phone: (207) 298-4375
Email: reception@caldervbs.com
Website:  www.caldervbs.com
Facebook Page: https://www.facebook.com/Christine-Calder-DVM-DACVB-Veterinary-Behaviorist-104864721012254/
More info on Dr. Calder from the January 2020 issue of Downeast Dog News – https://downeastdognews.villagesoup.com/p/what-is-a-veterinary-behaviorist/1846547
Recommended Resources
 Alone Training – http://bit.ly/AloneTraining
Crate Habituation to Reduce Anxiety – http://bit.ly/CrateHabituation
How Can I Tell When My Dog Is Anxious or Fearful? – http://bit.ly/DogsSignsofFear
Management of An Aggressive, Fearful or Reactive Dog – http://bit.ly/BhxManagement
Preventing separation anxiety – Teaching your dog to cope with being alone – http://bit.ly/PrevSepAnx
Podcast – Introducing Dr. Christine Calder, Maine's 1st Veterinary Behaviorist – http://bit.ly/WMw-DrCalderVetBhx
Podcast – Anxiety, Fears & Phobias with Dr. Christine Calder – https://bit.ly/WfMw-AnxFrPhbiaDrCalder
From Downeast Dog News
Separation Anxiety (Part 1) – What is it? –  https://bit.ly/SepAnx-Calder-1
Separation Anxiety Treatment (Part 2) – https://bit.ly/SepAnx-Calder-2
©17JUN20, Donald J. Hanson, All Rights Reserved
< Click for Copyright and Use Policy >