< short link to this page – http://bit.ly/Blog-DCM-FDA-8AUG19 >
< Click to Listen to Podcast >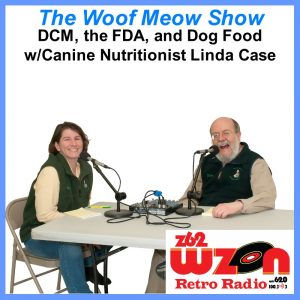 If you are concerned about heart disease in your pets and grain-free pet foods using non-standard proteins, you will not want to miss this show.
In this episode of The Woof Meow Show from August 10th, 2019 Kate and Don speak with canine nutritionist Linda Case, author of Dog Food Logic. Our topic is the June 29th, 2019 press release from the FDA addressing their current investigation into a reported increase in cases of dilated cardiomyopathy (DCM) in dogs and an alleged connection to what a few veterinarians are calling 'BEG' (Boutique, Exotic ingredient, Grain-free) pet foods.  We will discuss:
Is there a proven correlation between DCM and 'BEG' foods?
Has the investigation by the FDA been designed to meet the criteria for peer-reviewed scientific research?
Has the FDA withheld information on some of the foods fed to dogs reported with DCM?
Big pet food and how a few companies control what we feed our pets.
Linda's DCM Webinar
Diet and Dilated Cardiomyopathy – State of the Science, Wednesday, August 14th at 8 PM EDST, $19.95 before Aug. 14th – $21.95 afterward ( FMI – https://thesciencedog.com/science-dog-webinars/ )
The Influence of Big Pet Food
Top 6 Pet Food Companies in North America – 2018
2018 SALES
COMPANY
(million USD)
% TOTAL
# BRANDS
Mars Petcare Inc.
18,085.00
41.08%
41
Nestlé Purina PetCare
13,200.00
29.98%
30
J.M. Smucker
2,900.00
6.59%
14
Hill's Pet Nutrition
2,318.00
5.26%
4
Diamond Pet Foods
1,500.00
3.41%
12
General Mills (Blue Buffalo)
1,300.00
2.95%
5
Based on data compiled by petfoodindustry.com
You can hear The Woof Meow Show on Z62 Retro Radio, AM620, and WKIT HD3 at 9 AM on Saturday. If you are not near a radio, listen on your computer at http://bit.ly/AM620-WZON or your smartphone or tablet with the free WZON 620 AM app. A podcast of the show is typically posted immediately after the show. You can download this show and others at http://woofmeowshow.libsyn.com/, at Don's blog http://bit.ly/Words-Woofs-Meows and the Apple iTunes store.
< Click to Listen to Podcast >
Contact Info
Linda P. Case, MS
AutumnGold Consulting and Dog Training Center
Mahomet, IL
(217) 586-4864
Autumngoldconsulting.com
Sciencedog.wordpress.com
Recommended Resources
GAKS Philosophy on Pet Nutrition – http://bit.ly/GAKS_Nut_Phil
Pet Foods We Offer At Green Acres Kennel Shop – http://bit.ly/GAKS_PetFood_Brands
Shared Articles – Do the Vets Behind the FDA Investigation Have A Conflict of Interest? – http://bit.ly/DCM-FDA-Conflict
FDA Update on Heart Disease in Dogs & What Should You Do? – http://bit.ly/FDA-DCM-Food-7JUL19
Shared Blog Post – FDA Updates on Heart Disease in Dogs – Hemopet – Dr. Jean Dodds – http://blog.greenacreskennel.com/2019/04/12/shared-blog-post-fda-updates-on-heart-disease-in-dogs-hemopet-dr-jean-dodds/
UPDATE! – Pet Nutrition – Grain-Free Foods and FDA Reports of Increased Heart Disease in Dogs – WDJ Blog Post – < http://blog.greenacreskennel.com/2018/08/06/update-pet-nutrition-grain-free-foods-and-fda-reports-of-increased-heart-disease-in-dogs-wdj-blog-post/ >
UPDATE! – Pet Nutrition – Grain-Free Foods and FDA Reports of Increased Heart Disease in Dogs – < http://blog.greenacreskennel.com/2018/07/27/update-pet-nutrition-grain-free-foods-and-fda-reports-of-increased-heart-disease-in-dogs/ >
Grain-Free Foods and FDA Reports of Increased Heart Disease in Dogs – < http://blog.greenacreskennel.com/2018/07/22/pet-nutrition-grain-free-foods-and-fda-reports-of-increased-heart-disease-in-dogs/ >
Things I Wish I Had Known… The Importance of What I Feed My Pets – bit.ly/Things-Nutrition-1
Podcast – Pet's in the News–No. 4 Pet Food, DCM and The FDA –  http://bit.ly/WfMw-DCM-FDA-20JUL19
Podcast – Is Feeding A Grain-Free Food to Our Dogs Dangerous?, with Linda Case, MS – http://bit.ly/Podcast-FDA-Grain-Free-LindaCase-29SEP18
Web Sites
DCM is a real disease. – It deserves real science. – https://www.veterinaryintegrity.org/
From Journal of Animal Science – Special topic: The association between pulse ingredients and canine dilated cardiomyopathy: addressing the knowledge gaps before establishing causation – https://academic.oup.com/jas/article-abstract/97/3/983/5279069
Letter to Journal of the American Veterinary Medical Association (JAVMA) from Daniel Schulof demanding that JAVMA retract an article authored by L.M. Freeman et al., which was published as a "Commentary" in the December 1, 2018 edition of JAVMA.1 The article is entitled "Diet-Associated Dilated Cardiomyopathy in Dogs: What Do We Know?" – < click to read >
FDA Investigation into Potential Link between Certain Diets and Canine Dilated Cardiomyopathy – https://www.fda.gov/animal-veterinary/news-events/fda-investigation-potential-link-between-certain-diets-and-canine-dilated-cardiomyopathy
Tuffy's Pet Foods (NutriSource/PureVita/Natural Planet) – A Message Regarding DCM Concerns – https://nutrisourcepetfoods.com/images/content/Tuffy's%20DCM%20Statement%20(7-1-19).pdf
Fromm Response to Updated FDA DCM Complaint Reporting – https://frommfamily.com/connect/fda-dcm-20190701/
Zignature Statement in Response to FDA Findings – https://www.zignature.com/statement-on-dcm/
©08AUG19, Donald J. Hanson, All Rights Reserved
< Click for Copyright and Use Policy >