< Click to Listen to Podcast >
< Shareable Short Link to this page >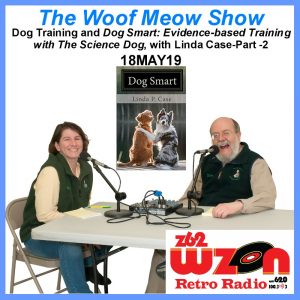 In this second of a two-part series, Kate and Don interview dog trainer and author Linda Case about her book Dog Smart: Evidence-based Training with The Science Dog. In the last episode, we focused on foundational material covered in the book. This week we get into the nitty-gritty of dog training and talk about:
The benefits of working with a professional dog training instructor.
Qualities to look for in a dog training instructor and what to avoid.
Why it is so important to teach students how a dog learns and the most important things we can teach them on this topic.
What is clicker training and why it is so useful when training a dog?
The power of using food as a reward when training a dog.
How we help students address undesirable behaviors, they experience with their dogs.
The four most valuable behaviors we teach our students to train their dogs.
If you want to learn about your dog and how to live together happily, you will want to listen to this show and read Linda's book.
You can hear The Woof Meow Show on Z62 Retro Radio, AM620, and WKIT HD3 at 9 AM on Saturday. If you are not near a radio, listen on your computer at http://streamdb7web.securenetsystems.net/ce/index.cfm?stationCallSign=WZON or your smartphone or tablet with the free WZON 620 AM app. A podcast of the show is typically posted immediately after the show. You can download this show and others at http://woofmeowshow.libsyn.com/ and the Apple iTunes store.
< Click to Listen to Podcast >
#WoofMeowShow #LindaCase #ScienceDog #DogTraining
Contact Info
Linda P. Case, MS
AutumnGold Consulting and Dog Training Center
Mahomet, IL
(217) 586-4864
https://www.facebook.com/pg/LindaCaseAutumnGold/posts/
https://thesciencedog.wordpress.com/
Recommended Resources
Book Review – Dog Smart: Evidence-based Training with The Science Dog by Linda P. Case – http://bit.ly/BkRvw-Case-DogSmart
What Is Dog Training? – http://bit.ly/WhatIsDogTraining
How to Choose a Dog Trainer – http://bit.ly/HowToChooseADogTrainer
Understanding Dog Behavior, How Dogs Learn, and the Most Humane (Best) Ways to Train Them, P.A.W.S. Animal Adoption Center, Camden, Maine – 10NOV18 – http://bit.ly/PAWS-Camden-10NOV18
What Is Clicker Training? – http://bit.ly/WhatIsClickerTraining
Reward Based Training versus Aversives –  http://bit.ly/RewardVSAversive
Help! My Dog is Aggressive, Reactive, Fearful, Anxious, etc. – What do I do? – WWM – APR2017 – http://bit.ly/HelpDogAggx
Teaching the ATTENTION or LOOK Behavior – http://bit.ly/GAKS-Attention
Teaching Your Puppy to Come When Called – Starting Points – http://bit.ly/Come-Recall
How Do I Get My Dog to Walk Politely Instead of Pulling on the Leash? – http://bit.ly/WalkingPolitely
Dog Training and Dog Smart: Evidence-based Training with The Science Dog, an interview with Linda Case, Part 1 – http://bit.ly/WfMw-LCase-11MAY19
Is Feeding A Grain-Free Food to Our Dogs Dangerous?, with Linda Case, MS – http://bit.ly/Podcast-FDA-Grain-Free-LindaCase-29SEP18
How to Choose A Dog Trainer (2017) – http://blog.greenacreskennel.com/2017/01/08/how-to-choose-a-dog-trainer/
Podcast – The Benefits of Training Your Dog and 2019 Classes at Green Acres – http://bit.ly/WfMw-Training2019
©18MAY19, Donald J. Hanson, All Rights Reserved
< Click for Copyright and Use Policy >