< Click to Listen to Podcast >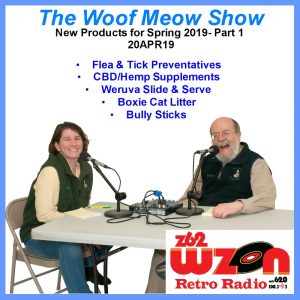 In this episode of The Woof Meow Show from April 20th, 2019, Kate and Don discuss some new products available at Green Acres. They start by reviewing several products from Earth Animal for the safe and effective prevention of fleas and ticks on cats and dogs. Then they address the recent regulatory issues of CBD/Hemp-based products in Maine and introduce a new soft-chew CBD product from Treatibles. Cat lovers will be excited to hear about the new Slide & Serve pouched cat food from Weruva as well as Boxie Cat Litter. Lastly, they talk about bully sticks, a favorite chew distraction for most dogs, and our new bully stick provider.
You can hear The Woof Meow Show on Z62 Retro Radio, AM620, and WKIT HD3 at 9 AM on Saturday. If you are not near a radio, listen on your computer at http://bit.ly/AM620-WZON or your smartphone or tablet with the free WZON 620 AM app. A podcast of the show is typically posted immediately after the show. You can download this show and others at http://woofmeowshow.libsyn.com/, at Don's blog http://bit.ly/Words-Woofs-Meows and the Apple iTunes store.
< Click to Listen to Podcast >
Contact Info
Green Acres Kennel Shop
1653 Union Street, Bangor, ME 04401
207-945-6841
Website – https://www.greenacreskennel.com/
Facebook Page – https://www.facebook.com/GreenAcresKennelShop/
Blog – https://www.words-woofs-meows.com
©20APR19, Donald J. Hanson, All Rights Reserved
< Click for Copyright and Use Policy >