< Click to Listen to Podcast >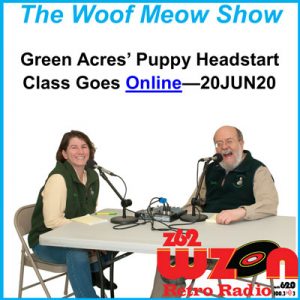 < Updated 21JUN21 >
< A short link for this page – https://bit.ly/WfMw-GAKS-PuppyONLINE-21JUN20 >
In this episode of The Woof Meow Show from June 20th, 2020 Kate interviews co-host Don Hanson about the online Puppy Headstart class he has developed for Green Acres Kennel Shop. They discuss what prompted the development of an online course and the process involved. Kate asks Don about the typical audience for the class and how they have reacted to learning online versus face to face. They then go on to discuss the topics covered in the class. Don then reveals a new option for class students; puppy daycare.  Kate wraps up the interview asking Don about the pros and cons of online courses and their role in Green Acre's future.
FMI – https://bit.ly/GAPuppyHeadstart-Online
You can listen to The Woof Meow Show on Z62 Retro Radio, AM620, and WKIT HD3 at 9 AM on Saturday. If you are not near a radio, listen on your computer at http://bit.ly/AM620-WZON or your smartphone or tablet with the free WZON 620 AM app. A podcast of the show is typically posted immediately after the show. You can download this show and others at http://bit.ly/WfMwPodcasts , at Don's blog http://bit.ly/Words-Woofs-Meows and the Apple iTunes store.
Contact Info
Green Acres Kennel Shop
1653 Union Street
Bangor, ME 04401
207-945-6841
https://www.facebook.com/GreenAcresKennelShop/
Recommended Resources
 What Is Dog Training – http://bit.ly/WhatIsDogTraining
How to Choose a Dog Trainer – http://bit.ly/HowToChooseADogTrainer
Things I Wish I Had Known Before I Started Training Dogs – Gus, the Dominance Myth, An Alpha Roll, and a Damaged Relationship – WWM-SEP2018 – http://bit.ly/Things-Gus-Dominance
Things I Wish I Had Known Before I Selected My First Dog – Aversives are Unnecessary and Counter-Productive When Training A Dog – Part 1 – WWM-JAN2019 –  http://bit.ly/Things-Aversives-1
Things I Wish I Had Known Before I Selected My First Dog – Aversives are Unnecessary and Counter-Productive When Training A Dog – Part 2 – WWM-FEB2019 –  http://bit.ly/Things-Aversives-2
About Don Hanson – http://bit.ly/AboutDonHanson
The Woof Meow Show: Introducing The Woof Meow Show with Kate Dutra and Don Hanson – https://bit.ly/WfMw-MeetKateAndDon
©21JUN20, Donald J. Hanson, All Rights Reserved
< Click for Copyright and Use Policy >