< Click to Listen to Podcast >
< Updated 23FEB20 >
< A short link for this page – http://bit.ly/WfMw-MyPerfectPet-FEB20  >
If you are looking for healthy options when feeding your dog or cat, we think you will find this podcast very informative.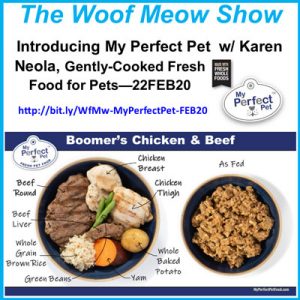 In this episode of The Woof Meow Show from February 22nd, 2020, Kate and Don interview Karen Neola, the founder, and president of My Perfect Pet.
If you are a regular listener to The Woof Meow Show you know that Don and Kate believe that what we feed our pets is important to both their physical and mental wellbeing. Both of them choose to eat fresh, wholesome food as much as possible and choose to feed their pets the same way. In this week's podcast, we interview Karen Neola, the founder, and owner of My Perfect Pet, and a kindred spirit in our approach to pet nutrition.
For the last thirteen years, My Perfect Pet has been making and selling food for cats and dogs using fresh ingredients sourced from local suppliers who exclusively sell human-grade food, the same companies that supply restaurants and high-end grocers. The food is gently-cooked, frozen, and packaged in a ready-to-eat format for cats and dogs.
You can learn more about Karen and My Perfect Pet in this podcast and in our show notes below.
Learn what Green Acres Kennel Shop likes about My Perfect Pet at – http://bit.ly/WhyWeLikeMyPerfectPet
Below you will find a summary of Karen's answers to our questions.
Tell us a bit about yourself and your pets.
My Perfect Pet has given me the opportunity to combine my career and love for animals.  I've been an animal lover my whole life, my parents named me "Karen's Reject Animal Farm" when I was 7 because I was always bringing home strays and begging them to let me take care of them.  Dogs, cats, rabbits, turtles, even the chickens we hatched at school. At present, I only have one dog, Sweetheart, adopted from Lab Rescuers – named Sweetheart only because I started calling her that while I was trying out other names and the only time she responded seemed to be when I called her Sweetheart.
Why did you decide to get into the pet food business?
After working at Hewlett-Packard for 25 years as an R&D program manager, I had a bucket list a mile long when I left.  However, on Jan 3rd, 2007 I lost my lab Hunter to contaminated pet food that was subsequently recalled. I was devastated.  And angry. I felt betrayed by companies who had knowingly put toxic substances into food to increase their profits. I vowed never again to buy commercial pet food and started making my own, using only fresh, whole, natural and safe ingredients – the same quality I trusted for myself.  I immersed myself in research on dog and cat nutrition and worked with nutritionists, veterinarians, universities and health care experts to create the perfect blend of all-natural high-quality ingredients that provide maximum nutrition for dogs and cats with the least processing and highest safety.  I did not start with any intent to build a business, it just kept growing.
The My Perfect Pet Story – check out the video here – https://www.myperfectpetfood.com/process
Tell us about My Perfect Pet:
I started making my own food in January 2007 – with no idea that my decision to make dog food with cooked meats and raw vegetables would 13 years later become the fastest-growing category of pet food.  I wondered for 12 years why no one else was doing this, finally this year we're starting to see everyone jumping into this category. We are located in Poway, CA near San Diego, and have a second facility under construction in Sulphur Springs, TX (90 miles NE of Dallas)
My Perfect Pet is in a relatively new category of pet foods, gently-cooked from fresh whole food.  Why did you make that choice over kibble, canned, frozen, or freeze-dried?
I wanted my pet's food to be as fresh and natural as possible, fresh whole foods with minimal processing and no preservatives.  My decision to go fresh and natural basically ruled out other options. I didn't want to do raw as I was vegan at the time and didn't want raw meat in my refrigerator next to my food.  My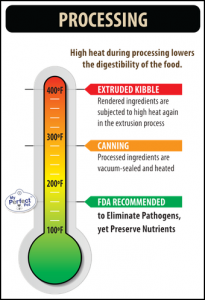 dogs were therapy dogs and while their registrar had no restriction on pet diets, many hospitals and health centers ask that we not feed raw diets before a visit out of concern what might be transmitted to a person with a weakened immune system.  So I decided to use the same food standard that I used for myself, following FDA food safety guidelines which meant cooking meats to minimum temperatures. It was I believe, the best of both worlds – all the benefits of raw with the safety and convenience of food that had been gently-cooked.
Canning requires heating to temperatures far above FDA minimums, which eliminates fresh foods.
The extrusion process used to make dog kibble requires the highest temperatures used in the pet food industry and requires that all ingredients be in powder or pellet form, which is about as unnatural as it gets compared to fresh whole foods.  In addition to cooking at high temperatures, kibble is also cooked under high pressure which is detrimental to many of the ingredients. That is why synthetic amino acids and vitamins, minerals and other micronutrients needed to be added to kibble after the cooking process.
Freeze-drying also involves far more processing than gently-cooking and is expensive.
Pet parents intrinsically understand the benefits of eating fresh whole food because that's what they hear from human healthcare professionals. It is not a leap to understand that fresh food is also better for their pets.
Some of the reaction to the Grain-Free & DCM "crisis" has been for some in the veterinary community to tell clients not to feed a food unless the company making it has an accredited veterinary nutritionist on staff.  Do you think that is important and who formulated the My Perfect Pet diets?
I believe that companies with deep pockets that employ their own staff of nutritionists are the ones telling vets and clients to demand this. I find it amazing that companies with veterinary nutritionists on their payroll saying what they are told to say have more credibility than companies like My Perfect Pet who consults with a number of independent, objective, unbiased, and accredited nutritionists without any potential conflict of interest.
There are international standards for nutrient profiles, some far more stringent than the AAFCO standards in the USA. These standards have been developed over the years by thousands of animal nutritionists and have been proven by testing.  I put far more credibility into consistent results from wide international sources than an employee on a single company's payroll.
My Perfect Pet does not recommend nutrient profiles that deviate from recognized standards.  We do not use 'exotic' ingredients in our blends. The ingredients we use have been used in pet food for decades, we just have consciously chosen to use a higher quality version of those ingredients.  We do not claim to have more company expertise in determining nutritional needs for animals than recognized experts in those fields.
My Perfect Pet has been a preferred supplier to a major zoological park, supplying carnivore diets to a number of animals including polar bears, cheetahs, and a lot of other carnivores.  Cheetahs can be extremely finicky and liked both raw and cooked versions of diets we produced. The zoo did not ask us to become experts on the nutritional needs of all those animals, but just to asked us to formulate diets that met the nutritional needs and profiles that their animal nutritionists provided. We do the same for our pet foods.
We base all our formulas on known and established standards and use only ingredients that have been proven to be easily digested by the intended species and that offer the best bioavailability and absorption of nutrients.  If it's not absorbed it is just waste and unnecessary processing.
While some of the big pet food companies make a big deal about feeding trials they do not disclose the relatively low standards for a feeding trial and the conditions in which the subjects of the feeding trial are kept. For the record, My Perfect Pet will never cage an animal for feeding trials.  Some of the companies making these claims have done what I consider unspeakable testing on animals. We will continue to rely on published results and decades of proven results.
Tell us about the ingredients you use in My Perfect Pet? 
We source our ingredients locally whenever possible.  All the ingredients are sourced within the USA with the exception of lamb from New Zealand and Australia, and coconut oil from the Philippines.
We buy only from suppliers who exclusively sell human-grade food, mostly the same companies that supply restaurants and high-end grocers.  We never purchase ingredients from any company selling feed grade ingredients or foods not intended for human consumption.
The ingredients we use in our products are better than what many people can buy in supermarkets.  One of our company perks is that employees can purchase our ingredients at cost for home use – they often go together to buy cases of chicken or beef or some of our produce.  Our fresh locally grown produce is the best – I can hardly stand to buy vegetables at the market after eating the ones at My Perfect Pet. If you visit My Perfect Pet I'll make lunch from whatever we are making that day, you'll be amazed! In fact, it is not uncommon for employees to make themselves lunch from the same ingredients we are using to produce pet food on that day.
I've stopped taking multi-vitamins since starting My Perfect Pet.  I realized many of my supplements were originating in China, if I'm not willing to give them to my pets why would I take them?  I decided throwing a bunch of fresh vegetables and fruit, along with a little dried kelp and calcium supplement into my blender was just as healthy and a lot tastier.
How many formulas do you have for dogs and cats?
We currently have ten blends for dogs and three blends for cats.
What drove you to develop those specific formulas?
The original blends were the Boomer's Chicken & Rice and the Buckaroo Puppy formulas which is basically the puppy version of the Boomer's.  When I started My Perfect Pet I had one older dog and one puppy – the puppy's name was Boomer but I called him my little Buckaroo, so that's how I got those names, Boomer's for the adult blend and Buckaroo for puppies.
We recognized that pets with beef, chicken or grain allergies needed different ingredients and developed foods that were appropriate for them.  Then we addressed other pets with special dietary needs, and the My Perfect Pet line keeps growing. We produce a number of specialty blends not currently released for retail distribution.
Do the My Perfect Pet blends meet AAFCO's requirements for all-life stages?
Buckaroos blend is for puppies and all of our other dog blends are for adult dogs. We do have one all-life stages cat blend, Toby's Turkey Carnivore because the profiles for cats and kittens are so close.
Because we use real food with nutrient profiles certified by USDA, we can publish complete nutrient profiles which means pet parents don't have to wonder how much is really in a blend when the label states "minimum crude" – our profiles are actuals.
Nutrient Profiles – Cat Blends
https://www.myperfectpetfood.com/store/assets/pdf/PROFILES_Cat_Blends.pdf
Nutrient Profiles – Standard Dog Blends https://www.myperfectpetfood.com/store/assets/pdf/PROFILES_Std_Adult_Dog.pdf
Nutrient Profile – Buckaroo Puppy Blend
https://www.myperfectpetfood.com/store/assets/pdf/PROFILES_Puppy_Blend.pdf
Nutrient Profiles – Personal Care Dog Blends
https://www.myperfectpetfood.com/store/assets/pdf/PROFILES_Personal_Care_Dog_Blends2019.pdf
All of our blends meet all AAFCO nutrient profiles except for two:  Low Phosphorus Lamb for dogs and Low Phosphorus Chicken for cats. These are intentionally lower in Phosphorus which is commonly recommended for dogs or cats with compromised kidney function.  Because we use only muscle meats as the protein source, we can keep the protein at recommended levels while lowering the phosphorus levels.
How have you evaluated the food to make sure all formulas meet the required nutrition requirements?
We have all profiles tested prior to release to confirm that they meet the nutrient profiles published on the label, and we have 13 years of proven results.
See what the ingredients in the My Perfect Pet Formulas look like.
Cat Formulas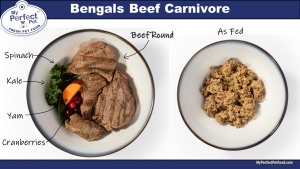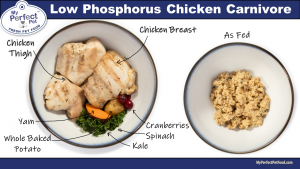 Dog Formulas
How is your food distributed?
We have distribution to independent retailers in 26 states, and we serve those areas without retailers online. Unfortunately, we have to charge for overnight shipping for food purchased online since it's a frozen food, so we're working to get local retail distribution set up for the entire U.S.  Our website has a store locator where pet parents can put in their zip code and find the closest store, and if you're outside of our distribution area then you can order it online until we get distribution in your area. We are glad to say that pet parents in the greater Bangor region can get My Perfect Pet at the Green Acres Kennel Shop.
We're excited that you believe in sampling. In the short time, we've had My Perfect Pet at Green Acres, providing a sample has been instrumental in getting people interested in and willing to try it My Perfect Pet with their pets.  How have you seen cats and dogs respond to My Perfect Pet?
We've been accused of putting crack in the food!  That's why we believe in sampling – the first one is free, then when you see how much your pet loves it you have to buy it!  Who doesn't love watching their pet go crazy happy over their meal!
People have asked us what we put in the food that seems to resolve a number of health issues – from itching and scratching to fur balls, to tearing/staining, sensitive stomachs, etc.  I tell them we don't do a thing except use the freshest highest quality ingredients and prepare it in the best way to ensure easy digestion. We don't make any guarantees or claims, we just encourage pet owners to try it and see for yourself.
I encourage every pet owner to do their research.  Don't take anyone's word for it in the pet food industry, there are companies out there making claims that I think should be criminal.  Don't even take my word for it, do your homework, look at the ingredients list, know what every ingredient is, where it comes from, how it's processed, the company's history and reputation, etc.
Describe what the food will look like when a client opens the bag and prepared to feed their pet.
The standard dog food packaging is a pouch containing 7 individually wrapped food bars for easy portion control, thawing, and serving.  They are stored frozen to avoid preservatives. The average feeding amount is 1 food bar for every 20 lbs
of the adult dog's ideal weight, more or less depending on age, exercise, metabolism, etc.  The food bars can be stored in the refrigerator for up to 3 days. We commend thawing before serving so your dog doesn't try to swallow frozen chunks whole.
We also have plastic-free packaging for dogs, 30 individual food bars in a compostable carton, all made with 100% recycled materials – except for the food bars.
Cat food pouches have 10 individually wrapped food bars, with recommended feeding 1 food bar per day for every 10 lbs of the cats' ideal weight.
While it would be ideal if everyone could feed My Perfect Pet at every meal, due to the nature of the quality of ingredients used it is more expensive than kibble. Will a pet still benefit form My Perfect Pet if it is only fed periodically?
We recognize that not every budget supports feeding exclusively My Perfect Pet and it can easily be mixed with other food – just remember to decrease the other food by whatever amount you are feeding My Perfect Pet.
Any fresh is better than no fresh!  Ours is the perfect topper that not only adds delicious taste but also the benefits of fresh whole food and balanced nutrition.
If someone tries My Perfect Pet and they or their pets don't like is, what is your refund policy?
When in doubt we encourage your customers to try a sample before purchasing the entire bag – it's not a feeding trial but 1/2 bar is a generous taste test. We have never had a quality issue so there should never be a return due to a quality concern provided customers keep it properly frozen or refrigerated. We get very few returns, but we do stand behind our products and of the proper documentation is completed we will honor the occasional return.
My Perfect Pet is not alone in the gently-cooked category.  What sets you apart from your competitors?
My Perfect Pet was the first company to introduce gently-cooked pet food and has been doing so for thirteen years.   We have the longest history and a perfect track record.
Our quality is unparalleled.  Most companies claiming human-grade ingredients use a contract manufacturer, and we have seen many recalls where the companies point to their manufacturers or suppliers or whoever. I decided early on I wanted absolute quality control over every step of the operation. We source the ingredients ourselves and manufacture it in our facility.  We are building a second new facility to expand while keeping the same absolute quality control.
I have spoken to enough suppliers and enough others in the industry to be confident in saying My Perfect Pet has the highest quality ingredients in any pet food. Fresh quality ingredients cost more but I will never compromise pet health over profit.  I don't answer to investors or private equity, only to my commitment to the integrity of our company and our products.
What are the four most important things you would like our listeners to remember about My Perfect Pet?
Quality of ingredients, Quality of Processing, Quality of Nutrition – It doesn't get better than PERFECT! Go for quality, don't take any chances with your pet's health.
Convenient portion control packaging for pets of all sizes from small dogs and cats to large breeds. Our food stores and thaws easily.
The taste! We win every picky eater contest! The real meat gets them every time.
The variety of blends we offer, from complete and balanced diets to fresh whole food alternatives to many of the prescription diets or veterinary blends.
Contact Info for My Perfect Pet
Address: 11870 Community Road Suite 200, Poway, CA 92064
Phone: 858-486-6500
Website: www.myperfectpet.com
Facebook Page: https://www.facebook.com/MyPerfectPet/
Instagram: www.instagram/myperfectpet
©23FEB20, Donald J. Hanson, All Rights Reserved