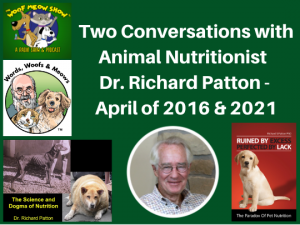 < Updated 16APR21 >
< A short link for this page – http://bit.ly/WfMw2wPattonAPR21 >
If you are a regular listener to The Woof Meow Show, you know that Kate and I are passionate about pet nutrition. Based on our experience with our pets and helping Green Acres Kennel Shop's clients, we have learned that fresh, wholesome, nutritious food is fundamental to optimal physical, mental, and emotional health. We chose to feed our pets in a manner that will allow them to thrive, not merely survive. However, our knowledge and experience are minimal compared to animal nutritionist, Dr. Richard Patton, our guest on the following two episodes of The Woof Meow Show.
Dr. Patton has spent more than 40 years as an animal nutritionist, working in 25 countries and formulating diets for a wide variety of captive wild animals and those we keep in our homes, such as cats and dogs. Based in New Mexico, Dr. Patton has consulted for agriculture enterprises, zoos, foreign governments, Fortune 500 companies, local and regional feed mills, and pet food companies. An adjunct professor at Penn State for 15 years, he has 25 scientific publications, two patents, and numerous popular press articles. His book, "Ruined by Excess, Perfected by Lack," is one of my favorites on the topic of pet nutrition. We hope that you will find these two podcasts as informative as we did.
ENCORE-Pet Nutrition with Dr. Richard Patton, First Air Date: 02APR16 < Click to listen >
An Update on Pet Nutrition & Pet Food with Animal Nutritionist Dr. Richard Patton, First Air Date: 10APR21 < Click to listen >
You can listen to The Woof Meow Show on Z62 Retro Radio, AM620, and WKIT HD3 at 9 AM on Saturday. If you are not near a radio, listen on your computer at http://bit.ly/AM620-WZON or your smartphone or tablet with the free WZON 620 AM app. A podcast of the show is typically posted immediately after the show. You can download this show and others at http://bit.ly/WfMwPodcasts , at Don's blog http://bit.ly/Words-Woofs-Meows and the Apple iTunes store.
Contact Info
Don Hanson & Kate Dutra
Green Acres Kennel Shop & The Woof Meow Show
Bangor, ME
(207) 945-6841
https://www.greenacreskennel.com/
https://www.facebook.com/GreenAcresKennelShop/
https://woofmeowshow.libsyn.com/
https://www.facebook.com/WoofMeowShow/
Contact Info
Dr. Richard Patton
(505) 466-4200
RSPatton@aol.com
https://pattonanimalnutrition.com/
Recommended Resources
A Video – The Science and Dogma of Pet Nutrition with Dr. Richard Patton  –http://bit.ly/Video-Dr-Richard-Patton
Book Review – Ruined by Excess, Perfected by Lack – The paradox of pet nutrition by Richard Patton – http://blog.greenacreskennel.com/2016/03/16/book-review-ruined-by-excess-perfected-by-lack-the-paradox-of-pet-nutrition-by-richard-patton/
GAKS Philosophy on Pet Nutrition – http://bit.ly/GAKS_Nut_Phil
What I Feed My Dog and Why I Feed What I Do – https://bit.ly/WhatIFeedAndWhy
Things I Wish I Had Known… The Importance of What I Feed My Pets – – WWM-MAR2019 – http://bit.ly/Things-Nutrition-1
Pet Nutrition: Some Myths and Facts – Part 1 – My story with Gus – Maine Dog Magazine – Winter 2017 – http://bit.ly/Gus-Nutrition
 What We Feed Our Pets and Why, with – Don Hanson, Kate Dutra, and Linda Case  – https://bit.ly/WfMw-WhatWeFeed-11JUL20
Is Feeding A Grain-Free Food to Our Dogs Dangerous?, with Linda Case, MS – http://bit.ly/Podcast-FDA-Grain-Free-LindaCase-29SEP18
DCM, the FDA, and Dog Food-the Science and the Hype with Canine Nutritionist Linda Case – http://bit.ly/Blog-DCM-FDA-8AUG19
Pet Fooled – A Look Inside A Questionable Industry with Kohl Harrington – http://bit.ly/WfMw-Pet-Fooled
©16APR21, Donald J. Hanson, All Rights Reserved
< Click for Copyright and Use Policy >