< A version of this article will be published in the March 2019 issue of Downeast Dog News >
< A short link to this article – bit.ly/Things-Nutrition-1 >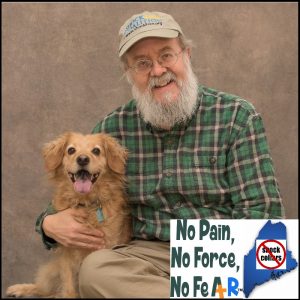 When I brought home my first puppy in 1975, I bought the dog food recommended by her veterinarian. When I got married, and both my dog and Paula's dog came to live with us, our only thought about dog food was budgetary. I now know that feeding the food that costs the least per pound can have significant hidden health costs.
In 1991 my wife and brought home our first puppy as a couple. On the advice of Paula's employer, a veterinarian, we fed him a premium pet food. Within a year Gus developed a chronic urinary infection which his veterinarian believed was related to how he processed food.  Thus begin our journey of learning about pet nutrition. Late in 1995, we relocated to Maine where we became the new owners of the Green Acres Kennel Shop. Gus was still struggling with urinary and bladder issues, and we were committed to learning all that we could about the best nutrition for our pets and those of our clients. Eventually, we found a food that helped Gus, and we also begin to look very critically at every pet food we sold.  (FMI – http://bit.ly/Gus-Nutrition).
I am often asked by clients how they can learn more about their pet's nutritional needs, something I encourage every pet parent to consider, and these are the resources I recommend.
Books
Ruined by Excess, Perfected by Lack, by Dr. Richard Patton. While very technical, I believe this book does the best job of explaining the science and rationale for feeding our pets a biologically appropriate diet. ( FMI – Podcast –  http://bit.ly/DrPatton-Podcast, Video – http://bit.ly/Video-Dr-Richard-Patton, Book review – http://bit.ly/RuinedByExcess-BookReview ).
Dog Food Logic – Making Smart Decisions For Your Dog In An Age Of Too Many Choices, by Linda Case. A good review of dog nutrition, the pet food industry and what dog parents should look for and even more importantly, look to avoid.
Natural Nutrition for Dogs and Cats – The Ultimate Diet, by Kymythy Schultze.  If you want to learn how to feed your pets a raw and natural diet that you make, from ingredients that you choose, this is the best place to start. NOTE: I specifically recommend against anyone feeding their pets a homemade diet if they have not done adequate research. If you fail to formulate an appropriate diet, you can harm your pet. This book provides sound advice.
See Spot Live Longer, by Steve Brown and Beth Taylor. By the founder of Steve's Real Food for Pets, this book is an excellent introduction for anyone considering feeding a raw diet. Steve's second book, Unlocking the Canine Ancestral Diet, is also another excellent book for understanding the benefits of feeding raw, even if it is not for every meal. ( FMI – Podcast http://bit.ly/WfMw-SteveBrown-2010 ).
Dr. Pitcairn's Complete Guide to Natural Health for Dogs and Cats by Richard H. Pitcairn, DVM, Ph.D. This book was the one that initiated our search for natural healthcare and nutrition alternatives for Gus. The recipes for pet food are sound, but a bit biased towards grain and carbohydrates.
The Truth About Pet Foods by Dr. Randy Wysong. This book by Dr. Wysong dramatically changed my view of the pet food industry. It went from my naïve presumption that all pet food companies must be trustworthy to one of "buyer beware. A veterinarian and the owner of a pet food company, Wysong's approach is very non-conventional. In this book, he states "It seems that the ideal would be for people to make their own pet foods." Wow! The owner of a dog food company suggesting that pets will be healthier if their owners make their food from fresh, whole ingredients instead of feeding commercial dog food. Dr. Wysong is someone I can respect and trust. He was also the first person to help me understand the importance of rotating what we feed our pets and the reasons not to food them the same food day after day. (FMI – Why Rotating Diets Makes Sense – http://bit.ly/DietRotation ). (FMI – download the book for free –  http://bit.ly/WysongTheTruthAboutPetFoods-pdf )
Videos
Pet Fooled – A Look Inside A Questionable Industry is a 2016 documentary film about the pet food industry. Everyone I know who has seen Pet Fooled has a new attitude about what they feed their pet. The film is available on Netflix and other video-on-demand services listed at the Pet Fooled web site ( https://www.petfooled.com/ ). The filmmaker also maintains a Facebook page with valuable information on the pet food industry (
https://www.facebook.com/petfooled/ ). You can listen to an interview with Kohl Harrington, the director of Pet Fooled at  http://bit.ly/WfMw-Pet-Fooled
The Science and Dogma of Pet Nutrition with Dr. Richard Patton – This is a video of a presentation that Dr. Patton did for Green Acres Kennel Shop in April of 2016. ( http://bit.ly/Video-Dr-Richard-Patton )
________________________________________________________________________
Don Hanson is the co-owner of the Green Acres Kennel Shop ( greenacreskennel.com ) in Bangor, ME where he has been helping people with their pets since 1995. He is a Bach Foundation Registered Animal Practitioner (BFRAP), Certified Dog Behavior Consultant (CDBC), Associate Certified Cat Behavior Consultant (ACCBC) and a Certified Professional Dog Trainer (CPDT-KA). Don is a member of the Pet Professional Guild (PPG) and is committed to PPG's Guiding Principles and the Pain-Free, Force-Free, and Fear-Free training, management, and care of all pets. Don produces and co-hosts a weekly radio show and podcast, The Woof Meow Show, that airs on Z62 Retro Radio WZON (AM620) and WKIT 103.3-HD3 and is streamed at http://bit.ly/AM620-WZON every Saturday at 9 AM. Podcasts of the show are available at http://woofmeowshow.libsyn.com/, the Apple Podcast app, and at Don's blog: www.words-woofs-meows.com.  The opinions in this post are those of Don Hanson.
©04MAR19, Donald J. Hanson, All Rights Reserved
< Click for Copyright and Use Policy >