< A short link to this post –  http://bit.ly/WfMw-DCM-FDA-20JUL19 >
< Click to Listen to Podcast >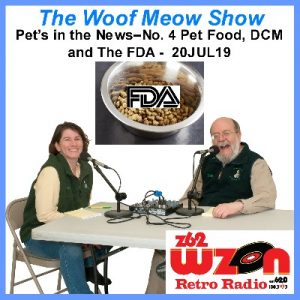 In this episode of The Woof Meow Show from July 20th, 2019 Kate and Don discuss one of the hottest topics in the news and social media; pet food and dilated cardiomyopathy in pets, and the FDA's June press release. There has been an incredible amount of "news" on this topic, much of it more conjecture and misinformation than useful facts. Kate and Don review four new articles on this subject that add clarity to the information missing from the nightly news.
If you are worried about what you are feeding your pet, you will want to listen to this show and podcast.
You can hear The Woof Meow Show on Z62 Retro Radio, AM620, and WKIT HD3 at 9 AM on Saturday. If you are not near a radio, listen on your computer at http://bit.ly/AM620-WZON or your smartphone or tablet with the free WZON 620 AM app. A podcast of the show is typically posted immediately after the show. You can download this show and others at http://woofmeowshow.libsyn.com/, at Don's blog http://bit.ly/Words-Woofs-Meows and the Apple iTunes store.
< Click to Listen to Podcast >
Recommended Resources
GAKS Philosophy on Pet Nutrition – http://bit.ly/GAKS_Nut_Phil
Pet Foods We Offer At Green Acres Kennel Shop – http://bit.ly/GAKS_PetFood_Brands
FDA Update on Heart Disease in Dogs & What Should You Do? – http://bit.ly/FDA-DCM-Food-7JUL19
Shared Blog Post – FDA Updates on Heart Disease in Dogs – Hemopet – Dr. Jean Dodds – http://blog.greenacreskennel.com/2019/04/12/shared-blog-post-fda-updates-on-heart-disease-in-dogs-hemopet-dr-jean-dodds/
UPDATE! – Pet Nutrition – Grain-Free Foods and FDA Reports of Increased Heart Disease in Dogs – WDJ Blog Post –  http://blog.greenacreskennel.com/2018/08/06/update-pet-nutrition-grain-free-foods-and-fda-reports-of-increased-heart-disease-in-dogs-wdj-blog-post/
UPDATE! – Pet Nutrition – Grain-Free Foods and FDA Reports of Increased Heart Disease in Dogs –  http://blog.greenacreskennel.com/2018/07/27/update-pet-nutrition-grain-free-foods-and-fda-reports-of-increased-heart-disease-in-dogs/
Grain-Free Foods and FDA Reports of Increased Heart Disease in Dogs –  http://blog.greenacreskennel.com/2018/07/22/pet-nutrition-grain-free-foods-and-fda-reports-of-increased-heart-disease-in-dogs/
Things I Wish I Had Known… The Importance of What I Feed My Pets – bit.ly/Things-Nutrition-1
Podcast – Is Feeding A Grain-Free Food to Our Dogs Dangerous?, with Linda Case, MS – http://bit.ly/Podcast-FDA-Grain-Free-LindaCase-29SEP18
Web Sites
FDA Investigation into Potential Link between Certain Diets and Canine Dilated Cardiomyopathy – https://www.fda.gov/animal-veterinary/news-events/fda-investigation-potential-link-between-certain-diets-and-canine-dilated-cardiomyopathy
Tuffy's Pet Foods (NutriSource/PureVita/Natural Planet) – A Message Regarding DCM Concerns – https://nutrisourcepetfoods.com/images/content/Tuffy's%20DCM%20Statement%20(7-1-19).pdf
Fromm Response to Updated FDA DCM Complaint Reporting – https://frommfamily.com/connect/fda-dcm-20190701/
Zignature Statement in Response to FDA Findings – https://www.zignature.com/statement-on-dcm/
©26JUL19, Donald J. Hanson, All Rights Reserved
< Click for Copyright and Use Policy >