< A short link to this post – http://bit.ly/DCM-FDA-Conflict >
< Updated – 31JUL19 >
I promised to keep you informed of any information on the current FDA investigation into dilated cardiomyopathy (DCM and pet food. Today, I received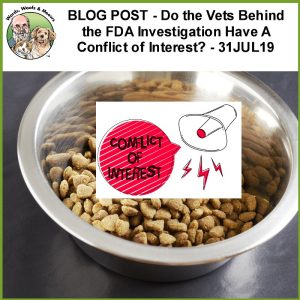 two articles which you are going to want to read before making any decisions about what you feed your pets. Both suggest the possibility that the FDA and some of the veterinarians working with them have a financial conflict of interest in this investigation. Financial misdeeds by large corporations and their minions may not surprise many of us, but none the less it is extremely inappropriate.
The first article was published on crossfit.com on July 26th and is entitled  Bad Science and Financial  Conflicts of Interest Plague the FDA'S Investigation into "Grain-Free "Pet Foods and Dilated Cardiomyopathy." I'm going to highlight some of the critical points in this article but encourage you to read it in its entirety at the link I have provided below.
Unfortunately, these stories [ the news stories that appeared on June 29th ] all have two things in common: They ignore the financial conflicts of interest possessed by the veterinarians at the heart of the FDA's investigation, and they mischaracterize the actual state of the scientific record concerning canine DCM. [ Emphasis Added ]
I spent four years writing a book about the pet food industry's long track record of using oft-concealed financial conflicts of interest and concerted misinformation campaigns to manipulate the veterinary nutrition community and pet-owning public, often at the expense of household pets. [ Emphasis Added ]
…it is abundantly clear to me that the FDA's DCM investigation bears all the hallmarks of a corporate influence-peddling campaign. [ Emphasis Added ]
The only three veterinarians identified by name as consultants in the investigation are Dr. Joshua Stern, Dr. Darcy Adin, and Dr. Lisa Freeman, and all have financial ties to one or more of three of the largest and oldest pet food companies in America: Hill's Pet Nutrition, Mars Petcare, and Nestlé Purina PetCare. These same three companies are conspicuous for having lost considerable market share to their grain-free competitors over the past decade. They're the only three companies recommended by the anonymous creators of a new website devoted to raising awareness about the issue of DCM. And they're the only three major international pet food companies not to be named in the FDA's investigation. [ Emphasis Added ]
The author of the article, Daniel Schulof, also discusses an article by the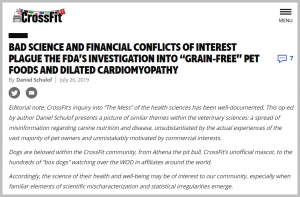 veterinarians mentioned above entitled Diet-associated dilated cardiomyopathy in dogs: what do we know? which was published in the Journal of the American Veterinary Medical Association (JAVMA) in December of 2018. The article has been treated by the FDA, the media, and many in the veterinary community as if it was a-peer-reviewed study, the standard for scientific studies, but it was not.  Schulof maintains the JAVMA article contains misleading information and …suspicious statistical and methodological irregularities.
Schulof has gone so far as to write letters to the editorial board of JAVMA demanding that the December article be retracted. He has also filed a federal lawsuit against the FDA for their failure to disclose government records on this issue as required by the Freedom of Information Act.
It is worth noting that the JAVMA retraction letters were not just signed by Schulof, but also by 200 veterinarians, pet food professionals, and animal scientists, when they were presented as drafts at the 2019 American Academy of Veterinary Nutrition conference in June. Schulof has many highly educated animal nutritionists who agree with his concerns.
You can read Schulof's article in Crossfit at https://www.crossfit.com/health/bad-science-and-financial-conflicts-of-interest-plague-the-fdas-investigation-into-grain-free-pet-foods-and-dilated-cardiomyopathy
I also encourage you to explore the public website www.veterinaryintegrity.org, where Schulof has posted the evidence supporting his allegations. Unlike the FDA, Schulof has provided access to his evidence.
Please, do your own research, do not let the news media and the big-pet food companies make decisions for you.
The second article I received today is entitled Debunking Pet Food Myths and Misconceptions –  'BEG' pet food does not equal DCM written by Ryan Yamka, who is has been board certified in companion animal nutrition by the American
College of Animal Sciences. The article was published at PetfoodIndustry.com, a member website. I cannot share a link but will share the highlights of Yamka's article.
…the reality is that no link or diet type has been proven to cause DCM in dogs. [ Emphasis Added ]
Yamka's then goes on to destroy the entire argument made by veterinarian Lisa Freeman about 'BEG' (boutique, exotic ingredient, and grain-free diets) dog foods.
If the press and others took the time to actually review all the cases reported to FDA (submitted through April 30, 2019), they would have seen other brands like Purina ONE, Hill's Pet Nutrition, Halo, V-Dog, Lotus and others. What is more important is that the majority of brands named in the report are not boutique brands and can be found in large pet specialty, grocery and mass market stores. Thus, the "B" in BEG is inaccurate and a misnomer. [ Emphasis Added ]
Of the cases investigated, 75% were common protein sources (chicken being No. 1), 24% were novel protein sources and 1% were vegetarian foods. In case you were wondering, kangaroo was only 9.3% of the total cases. Thus, the "E" for exotic in the acronym BEG is also inaccurate and a misnomer. [ Emphasis Added ]
What people fail to recognize is that almost 10% of the report cases were grain based. Thus, having veterinarians focus on grain-free foods only will likely miss cases of dogs consuming grain-based foods made by larger companies. In other words, if you don't look for it in all food types, you will not likely find the root cause. Thus, it makes one question if grain free (the G) is truly the issue, especially when the issue does not exist in the other food forms (wet, raw, home cooked or freeze dried). [ Emphasis Added ]
There is no doubt that DCM is a serious issue for some dogs and a tragedy for those that share their lives with those dogs. However, financially-corrupted science and disingenuous reporting is not justified nor helpful and may actually delay finding the real answer to DCM and saving dogs lives. – Don
Recommended Resources
GAKS Philosophy on Pet Nutrition – http://bit.ly/GAKS_Nut_Phil
Pet Foods We Offer At Green Acres Kennel Shop – http://bit.ly/GAKS_PetFood_Brands
FDA Update on Heart Disease in Dogs & What Should You Do? – http://bit.ly/FDA-DCM-Food-7JUL19
Shared Blog Post – FDA Updates on Heart Disease in Dogs – Hemopet – Dr. Jean Dodds – http://blog.greenacreskennel.com/2019/04/12/shared-blog-post-fda-updates-on-heart-disease-in-dogs-hemopet-dr-jean-dodds/
UPDATE! – Pet Nutrition – Grain-Free Foods and FDA Reports of Increased Heart Disease in Dogs – WDJ Blog Post – < http://blog.greenacreskennel.com/2018/08/06/update-pet-nutrition-grain-free-foods-and-fda-reports-of-increased-heart-disease-in-dogs-wdj-blog-post/ >
UPDATE! – Pet Nutrition – Grain-Free Foods and FDA Reports of Increased Heart Disease in Dogs – < http://blog.greenacreskennel.com/2018/07/27/update-pet-nutrition-grain-free-foods-and-fda-reports-of-increased-heart-disease-in-dogs/ >
Grain-Free Foods and FDA Reports of Increased Heart Disease in Dogs – < http://blog.greenacreskennel.com/2018/07/22/pet-nutrition-grain-free-foods-and-fda-reports-of-increased-heart-disease-in-dogs/ >
Things I Wish I Had Known… The Importance of What I Feed My Pets – – WWM-MAR2019 – http://bit.ly/Things-Nutrition-1
Podcast – Pet's in the News–No. 4 Pet Food, DCM and The FDA –  http://bit.ly/WfMw-DCM-FDA-20JUL19
Podcast – Is Feeding A Grain-Free Food to Our Dogs Dangerous?, with Linda Case, MS – http://bit.ly/Podcast-FDA-Grain-Free-LindaCase-29SEP18
Web Sites
FDA Investigation into Potential Link between Certain Diets and Canine Dilated Cardiomyopathy – https://www.fda.gov/animal-veterinary/news-events/fda-investigation-potential-link-between-certain-diets-and-canine-dilated-cardiomyopathy
Tuffy's Pet Foods (NutriSource/PureVita/Natural Planet) – A Message Regarding DCM Concerns – https://nutrisourcepetfoods.com/images/content/Tuffy's%20DCM%20Statement%20(7-1-19).pdf
Fromm Response to Updated FDA DCM Complaint Reporting – https://frommfamily.com/connect/fda-dcm-20190701/
Zignature Statement in Response to FDA Findings – https://www.zignature.com/statement-on-dcm/
________________________________________________________________________
Don Hanson is the co-owner of the Green Acres Kennel Shop ( greenacreskennel.com ) in Bangor, ME where he has been helping people with their pets since 1995. He is a Bach Foundation Registered Animal Practitioner (BFRAP), Certified Dog Behavior Consultant (CDBC), Associate Certified Cat Behavior Consultant (ACCBC), and a Certified Professional Dog Trainer (CPDT-KA). Don is a member of the Pet Professional Guild (PPG) and is committed to PPG's Guiding Principles and the Pain-Free, Force-Free, and Fear-Free training, management, and care of all pets. Don produces and co-hosts a weekly radio show and podcast, The Woof Meow Show, that airs on Z62 Retro Radio WZON (AM620) and WKIT 103.3-HD3 and is streamed at http://bit.ly/AM620-WZON every Saturday at 9 AM. Podcasts of the show are available at http://woofmeowshow.libsyn.com/, the Apple Podcast app, and at Don's blog: www.words-woofs-meows.com.  The opinions in this post are those of Don Hanson.
©31-Jul-19, Donald J. Hanson, All Rights Reserved
< Click for Copyright and Use Policy >