< Click to Listen to Podcast >
< Updated 09FEB21 >
< A short link for this page – http://bit.ly/WMw-DrCalderVetBhx >
In this episode of The Woof Meow Show from January 11th, 2020 Kate and Don interview Dr. Christine Calder, Maine's first and currently only veterinary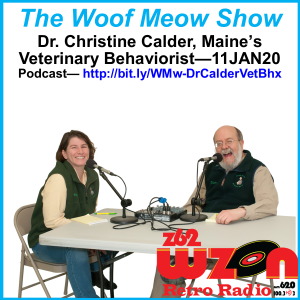 behaviorist. Dr. Calder is one of only 86 veterinary behaviorists in North America so we are lucky to have her here in Maine. Behavior problems are the second biggest reason that someone takes their pet to the veterinarian other than for an annual wellness exam. Unfortunately, veterinarians get very little education on behavior while in, so having a veterinarian that also has expertise in animal behavior has the potential to greatly benefit Maine's pets. Behavioral health is as important to the quality of life for our pets as their physical health, and behavior is often the first indicator that our pets give when they are not feeling well. If you are a pet parent, pet care professional, or general practice veterinarian, you will not want to miss this show.
We discuss why and when Dr. Calder decided she wanted to become a veterinarian, where she went to school, and what her education as a veterinarian entailed. We talk about her career as a general practice veterinarian and when and why she decided to specialize in behavior. Dr. Calder shares the rigorous process she had to complete to become accredited by the American College of Veterinary Behaviorists (ACVB). Don asks Dr. Calder about the 2015 AAHA Canine and Feline Behavior Management Guidelines and the findings reported. We discuss changes that need to occur in veterinary schools and the veterinary community to improve behavioral health for our pets.
Dr. Calder discusses her practice at the Maine Veterinary Medical Center in Scarborough and explains how pet parents, trainers and behavior consultants, and general practice veterinarians can contact and work with her to treat pets behavioral disorders. [ In the spring of 2020 Dr. Calder moved her practice to Midcoast Humane in Brunswick.] Lastly, we list the most common behavioral issues in both cats and dogs.
Contact Info for Dr. Calder
Business: Calder Veterinary Behavior Services
Address:
Phone: (207) 298-4375
Email: reception@caldervbs.com
Website:  www.caldervbs.com
Facebook Page: https://www.facebook.com/Christine-Calder-DVM-DACVB-Veterinary-Behaviorist-104864721012254/
More info on Dr. Calder from the January 2020 issue of Downeast Dog News – https://downeastdognews.villagesoup.com/p/what-is-a-veterinary-behaviorist/1846547
You can hear The Woof Meow Show on Z62 Retro Radio, AM620, and WKIT HD3 at 9 AM on Saturday. If you are not near a radio, listen on your computer at http://bit.ly/AM620-WZON or your smartphone or tablet with the free WZON 620 AM app. A podcast of the show is typically posted immediately after the show. You can download this show and others at http://woofmeowshow.libsyn.com/ , at Don's blog http://bit.ly/Words-Woofs-Meows and the Apple podcast app.
< Click to Listen to Podcast >
Recommended Resources
Do I Need a Dog Trainer or a "Behaviorist"? – http://bit.ly/WWM-Trainer-Behaviorist
©24MAY20, Donald J. Hanson, All Rights Reserved