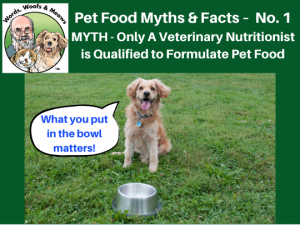 < This is an expanded version of my column, which was first published in the MARCH 2021 issue of Downeast Dog News>
< Updated 28MAR21 >
< A short link for this page – http://bit.ly/PetFoodMyths-Facts-4MAR21 >
Long before becoming pet care professionals, my wife and I learned that what we feed our pets matters. Unfortunately, as we pursued our education in pet nutrition, we quickly discovered there are many myths, a polite word for lies, about pet nutrition. Secondly, and more alarming, we found that the pet food industry lacks transparency. Sadly, some of these myths have become more prevalent in the last few years. This article is the first in a series where I will expose the myths and reveal pet food facts as I understand them. You may find some of what I write alarming as I shine a light on the dark side of the pet food industry.
MYTH – Only a Board-Certified Veterinary Nutritionist is qualified
to formulate pet food
The myth that only a Board-Certified Veterinary Nutritionist is qualified to formulate pet food took flight in July of 2018. It was a response to a press release issued by the US Food and Drug Administration (FDA) announcing an investigation into alleged links between certain dog foods and canine dilated cardiomyopathy (DCM). This story was covered by every major news network, perpetuating other unfounded statements that became part of pet food mythology. Within a week, many experts on animal nutrition were challenging the FDA conclusions. However, it was not until November of 2020 that the FDA concluded they were wrong and that no link between DCM and grain-free foods exists.  [ FMI – http://bit.ly/FDA-Grain-Free-SAFE ]
FACT – There is no legal or logical requirement that one must have a veterinary degree to formulate pet food.
The law requires that all pet foods sold in the USA meet requirements established by the American Association of Feed Control Officials (AAFCO). Individuals with advanced degrees in animal nutrition are equally or more knowledgeable about nutrition than any veterinarian. These individuals have been formulating pet food that meets AAFCO requirements for years.
FACT – Today, almost all pet food diets are formulated exclusively by computer software specifically designed to create balanced pet food formulas based on current science as established by the Natural Research Council (NRC) and AAFCO regulations. One does not need a veterinary degree or a doctorate in animal nutrition to use these programs.
You might want to consider a software program called Pet Diet Designer that has been designed to be used by people like you and me. FMI – https://www.petdietdesigner.com/en/
FACT – Formulating a pet food requires knowledge, but it is far from being "rocket science." By educating yourself, you can make better decisions about the pet food you buy and, if you choose to, can make safe and healthy food for your pets yourself.
Please understand, making food for your dog is not as simple as buying ingredients and putting them in a bowl. You need to understand your dog's nutritional needs and what ingredients provide your dog with what they need to grow and thrive. Once you know that, you can source fresh, wholesome ingredients and prepare a meal for your pet far healthier than most processed commercial foods simply because you provide them with fresh food. My wife prepared food for our dog Gus for many months, but as I have said, it does take knowledge and time.
Learning About Pet Nutrition
I learned what I know about pet nutrition from reading books and articles and attending numerous seminars and workshops on the subject. Because I find the topic fascinating and want the best for my pets, I continually seek knowledge on feeding them for optimal health. For those of you that want to learn more, these are my favorite books on the topic.
Canine and Feline Nutrition – A Resource for Companion Animal Professionals, by Linda Case, MS, Leighann Daristotle, DVM, Michael Hayek, Ph.D. & Melody Foess Raasch, DVM

This book was written for pet care professionals but is an excellent resource for those that want to know as much as possible. The lead author, Linda Case, has worked in the pet food industry. She has also been a frequent guest on The Woof Meow Show, helping us understand the DCM/Grain-Free fiasco.

Dog Food Logic – Making Smart Decisions For Your Dog In An Age Of Too Many Choices, by Linda Case, MS

Also written by Linda Case, this book is a perfect choice for dog parents that want to learn the fundamentals.

Pitcairn's Complete Guide to Natural Health for Dogs and Cats, by Richard H. Pitcairn, DVM, Ph.D.

This is an excellent book for those who want to take a natural approach to their pets' healthcare, including recipes for homemade diets. It is the book my wife used when cooking for our dog Gus.

Natural Nutrition for Dogs and Cats – The Ultimate Diet, by Kymythy Schultze,

This is my favorite book for those that want to prepare meals for their pets, rather than empty a package into a bowl, It's filled with great advice and is simple to follow. Kymythy has another book specific to feline nutrition, Natural Nutrition for Cats: The Path to Purr-fect Health, which is also excellent. She has also been a guest on my radio show and podcast, The Woof Meow Show.

Ruined by Excess, Perfected by Lack, by Richard Patton, Ph.D.

Patton takes a complicated, technical and vital subject, animal nutrition, and translates it into common sense. He has worked in the pet food industry and as a consultant around the world. If you are looking for a nutritional approach to addressing your pet's food allergies and intolerance's, digestive difficulties, obesity, and chronic diseases such as kidney disease or diabetes, read this book. I found this book so valuable that; I gave copies to the Green Acres staff and several local veterinarians in our community. Dr. Patton has been a guest on The Woof Meow Show and has presented pet nutrition seminars at Green Acres. A video of that presentation is available on this blog.

See Spot Live Longer, by Steve Brown & Beth Taylor

Steve is the inventor of Charlee Bear dog treats and Steve's Real Food for Pets, the first widely distributed frozen raw diets for both cats and dogs. Like Paula and I, Steve became interested in pet nutrition to help his pets live longer. He has been a guest on The Woof Meow Show. This is an excellent book for those who want to learn how what you feed can extend your pet's life.

The Truth About Pet Foods, Randy Wysong, DVM

We discovered this book in our first couple of years at Green Acres. It was written by a veterinarian who also owns a pet food company. One of the things that impressed me most about Dr. Wysong and his book is that he believes that if you want to provide optimal nutrition for your pet, you should make their food from fresh ingredients. The book also exposes many of the myths started by the pet food industry. The book can be downloaded for free as a PDF at – http://truthaboutpetfoods.net/The-Truth-About-Pet-Foods.pdf

Unlocking the Canine Ancestral Diet, by Steve Brown

Steve Brown's second book focuses on what a dog was designed to eat, and it's not kibble. Steve also provides some excellent tips on how you can improve your dog's diet by adding some fresh, whole food to their kibble.
Why does this myth exist?
Why would anyone tell you, "Never purchase pet food from a company that does not have a board-certified veterinary nutritionist on staff?  It could be due to a lack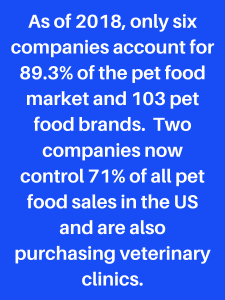 of knowledge. Perhaps they are unaware that for tens of thousands of years' canines have been successfully eating and thriving without human assistance. Or maybe they don't know that before the introduction of commercial pet food, people fed their pets without aid from any type of veterinarian. Sadly, it could also be for more nefarious reasons. The pet food industry, like all businesses, is about profit. There is nothing inherently wrong with profit; it's what allows all of us to earn a living. However, pet care is a multi-billion-dollar business becoming less competitive every year as megalithic corporations swallow up small companies. By definition, a corporation's first duty is to its shareholders, NOT you or your pets.
As of 2018, only six companies account for 89.3% of the pet food market and 103 pet food brands.  Two companies now control 71% of all pet food sales in the US and are also purchasing veterinary clinics. [FMI – http://bit.ly/PetFoodComp ]. These same companies also employ many of the 96 Veterinary Nutritionists in the world. It doesn't take a genius to see that insisting their employees formulate pet food could further increase their control of the pet food and veterinary business. Is that what you want as a pet owner? Less control and fewer choices, which will undoubtedly lead to higher prices? It's not what I want, and in fact, it scares me. I hope it scares you too and that you choose to look out for your pets and your best interests.
Recommended Resources
GAKS Philosophy on Pet Nutrition – http://bit.ly/GAKS_Nut_Phil
FDA Concludes, "…there is nothing inherently unsafe about a grain-free diet." – http://bit.ly/FDA-Grain-Free-SAFE
Which Companies Are Behind Your Pet's Food?  – http://bit.ly/PetFoodComp
FDA Update on Heart Disease in Dogs & What Should You Do? – 7JUL19 
– http://bit.ly/FDA-DCM-Food-7JUL19
Shared Articles – More on the FDA, DCM, and Pet Food – 10JUL19 
–  http://bit.ly/FDA-DCM-Food-10JUL19
Shared Articles – Do the Vets Behind the FDA Investigation Have A Conflict of Interest? – http://bit.ly/DCM-FDA-Conflict
What I Feed My Dog and Why I Feed What I Do – https://bit.ly/WhatIFeedAndWhy
Things I Wish I Had Known… The Importance of What I Feed My Pets – – WWM-MAR2019 – http://bit.ly/Things-Nutrition-1
Pet Nutrition: Some Myths and Facts – Part 1 – My story with Gus – Maine Dog Magazine – Winter 2017 – http://bit.ly/Gus-Nutrition
The Science and Dogma of Pet Nutrition with Dr. Richard Patton with link to 1-hour video – http://bit.ly/Video-Dr-Richard-Patton
Shared News Story – An Exposé on Prescription Diets from WJLA ABC7 News – http://bit.ly/Nut-RXDiets-WJLA-24MAY19
What We Feed Our Pets and Why, with – Don Hanson, Kate Dutra, and Linda Case  – https://bit.ly/WfMw-WhatWeFeed-11JUL20
Is Feeding A Grain-Free Food to Our Dogs Dangerous?, with Linda Case, MS – http://bit.ly/Podcast-FDA-Grain-Free-LindaCase-29SEP18
Pet's in the News–No. 4 Pet Food, DCM and The FDA –  http://bit.ly/WfMw-DCM-FDA-20JUL19
DCM, the FDA, and Dog Food-the Science and the Hype with Canine Nutritionist Linda Case – http://bit.ly/Blog-DCM-FDA-8AUG19
Pet Nutrition with Dr. Richard Patton – http://bit.ly/DrPatton-Podcast
Pet Fooled – A Look Inside A Questionable Industry with Kohl Harrington – http://bit.ly/WfMw-Pet-Fooled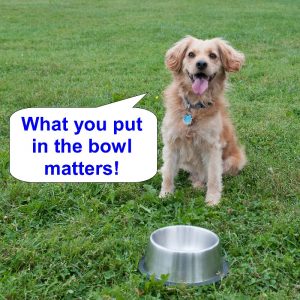 ________________________________________________________________________
Don Hanson is the co-owner of the Green Acres Kennel Shop ( greenacreskennel.com ) in Bangor, Maine, where he has been helping people with their pets since 1995. He is also the founder of ForceFreePets.com, an online educational resource for people with dogs and cats. Don is a Bach Foundation Registered Animal Practitioner (BFRAP), Certified Dog Behavior Consultant (CDBC), Associate Certified Cat Behavior Consultant (ACCBC), and a Certified Professional Dog Trainer (CPDT-KA). He is a member of the Pet Professional Guild (PPG). Don is committed to PPG's Guiding Principles and the Pain-Free, Force-Free, and Fear-Free training, management, and care of all pets. He serves on the PPG Steering Committee and Advocacy Committee and is the Chair of The Shock-Free Coalition ( shockfree.org ). Don produces and co-hosts a weekly radio show and podcast, The Woof Meow Show, that airs on Z62 Retro Radio WZON (AM620) and WKIT 103.3-HD3 and is streamed at http://bit.ly/AM620-WZON every Saturday at 9 AM. Podcasts of the show are available at http://bit.ly/WfMwPodcasts/, the Apple Podcast app, and Don's blog: www.words-woofs-meows.com.  The opinions in this post are those of Don Hanson.
©28MAR21, Donald J. Hanson, All Rights Reserved
< Click for Copyright and Use Policy >