< Click to Listen to Podcast >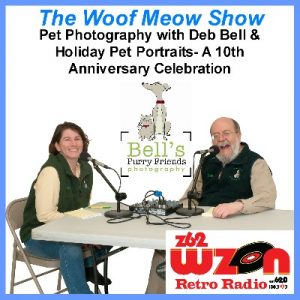 In this episode of The Woof Meow Show from October 5th, 2019, Don and Debra Bell, from Bell's Furry Friends Photography, talk about pet photography and the 10th anniversary of Holiday Pet Portraits at Green Acres Kennel Shop. We'll discuss how we are marking this anniversary with some special events. Tune and learn how you can capture your pet in a photo you will treasure forever, by the Bangor Regions Best Pet Photographer, Debra Bell.
Deb has been taking photos of Don, Paula, and their pets for years. In the following link, Don has shared an album of photos taken by Deb that mean the most to him. Take a look, and you will see why Deb has been voted the Bangor Region's Best Pet Photographer year after year.
Favorite Photos of Our Pets by Deb Bell – http://bit.ly/FavPhotosByDebBell
You can hear The Woof Meow Show on Z62 Retro Radio, AM620, and WKIT HD3 at 9 AM on Saturday. If you are not near a radio, listen on your computer at http://bit.ly/AM620-WZON or your smartphone or tablet with the free WZON 620 AM app. A podcast of the show is typically posted immediately after the show. You can download this show and others at http://woofmeowshow.libsyn.com/ , at Don's blog http://bit.ly/Words-Woofs-Meows and the Apple iTunes store.
< Click to Listen to Podcast >
Contact Info for Green Acres Kennel Shop
and Holiday Pet Portraits
Address: 1653 Union Street, Bangor, ME 04401
Phone: 945-6841
Webpage for Event: http://bit.ly/HolidayPetPortraits
Website: https://www.greenacreskennel.com/
Facebook Page: https://www.facebook.com/GreenAcresKennelShop/
Contact Info for Deb Bell and Bell's Furry Friends Photography
Website: http://www.bffpetphotos.com/
Facebook Page: https://www.facebook.com/BellsFurryFriends/
©05OCT19, Donald J. Hanson, All Rights Reserved
< Click for Copyright and Use Policy >