< Click to Listen to Podcast >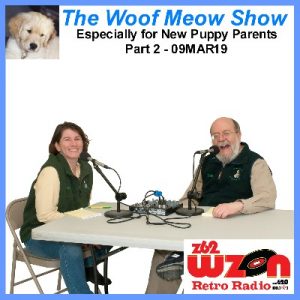 This episode of The Woof Meow Show from March 9th, 2019 is the second show in a three-part series. Kate and Don discuss; play biting, roughhousing, the importance and benefits of starting a Puppy Headstart class by the time the puppy is 10-weeks old,  handling for grooming and routine care, managing kids and a puppy, growling, stealing, play, and chewing. You can find a list of links to corresponding articles on Don's blog labeled as:
Especially for New Puppy Parents – http://bit.ly/EspcNewPuppyParents
Part one in this series addressed things you will want to consider before you bring a puppy home; like choosing a veterinarian and a dog trainer and getting signed up for a training class that uses pain-free, force-free, and fear-free methods. Then Kate and Don move on to things you will need to do when you bring that cute ball of fluff home, and the first thing they emphasize is the need for patience. Kate and Don conclude the episode by addressing these critical puppy topics; socialization, alone training, and housetraining. This episode is available as a podcast at Podcast – Especially for New Puppy Parents – Part 1 – http://bit.ly/WfMw-Esp_Pups1
The third show in this series will address the initial training tasks you will want to focus on with your new puppy. That includes; handfeeding for attention, food as a powerful reward and motivator, and how to use life rewards.  They will also address the importance of learning how to keep yourself and other people from inadvertently rewarding behavior that you do not like, such as jumping. Based on their experience teaching thousands of people how to train their dogs Kate and Don discuss why training takes time, commitment, and consistency and how to avoid common training mistakes.
You can hear The Woof Meow Show on Z62 Retro Radio, AM620, and WKIT HD3 at 9 AM on Saturday. If you are not near a radio, listen on your computer at http://bit.ly/AM620-WZON or your smartphone or tablet with the free WZON 620 AM app. A podcast of the show is typically posted immediately after the show. You can download this show and others at http://woofmeowshow.libsyn.com/, at Don's blog http://bit.ly/Words-Woofs-Meows and the Apple iTunes store.
< Click to Listen to Podcast >
Contact Info
Green Acres Kennel Shop
1653 Union Street, Bangor, ME 04401
207-945-6841
Website – https://www.greenacreskennel.com/
Facebook Page – https://www.facebook.com/GreenAcresKennelShop/
Blog – https://www.words-woofs-meows.com
Recommended Resources
Especially for New Puppy Parents – http://bit.ly/EspcNewPuppyParents
Biting and Bite Thresholds – http://bit.ly/Puppy-Biting
Help! My Puppy's A Land Shark! – http://blog.greenacreskennel.com/2015/03/01/canine-behavior-help-my-puppys-a-land-shark/
Book Review – A Kids' Comprehensive Guide to Speaking Dog! by Niki Tudge – http://bit.ly/BkRvw-KidsGuide-Tudge
Book Review – Living with Kids and Dogs…Without Losing Your Mind: A Parent's Guide to Controlling the Chaos by Colleen Pelar – http://bit.ly/BkRwv-LvngKidsDogs-Pelar
What Should I Do When My Dog Growls? – http://bit.ly/DogGrowls
What Should I Do When My Dog Does Not Let Me Take Something They Have Stolen and Snaps or Tries to Bite Me? – http://bit.ly/StealGuardGrowlSnap
Chewing – http://bit.ly/DogsChewing
Podcast – Kids & Dogs with Colleen Pelar – part 1 – http://traffic.libsyn.com/woofmeowshow/WoofMeowShow-2007-02-11-LivingwithKidsDogs-part-1.mp3
Podcast – Kids & Dogs with Colleen Pelar – part 2 – http://traffic.libsyn.com/woofmeowshow/WoofMeowShow-2007-02-18-LivingwithKids-Dogs-part2.mp3
Podcast – Dogs and Babies with Jennifer Shryock from Family Paws Parent Education – http://traffic.libsyn.com/woofmeowshow/WoofMeowShow-2013-08-17-Dogs_and_Babies_w-Jennifer_Shryock_.mp3
Podcast – Especially for New Puppy Parents – Part 1 – http://bit.ly/WfMw-Esp_Pups1
Podcast – Especially for New Puppy Parents – Part 2 – http://bit.ly/WfMw-Esp_Pups2
Podcast – Especially for New Puppy Parents – Part 3 – http://bit.ly/WfMw-Esp_Pups3
©09MAR19, Donald J. Hanson, All Rights Reserved
< Click for Copyright and Use Policy >