ProDen PlaqueOff® is an all-natural pet dental product that helps reduce tartar and makes your pet's teeth whiter and cleaner; keeping your pets mouth and teeth healthy. It is effective against bad breath, plaque, and tartar. Unlike some
dental products for pets, it is extremely easy to use; you simply sprinkle it on their food or give it to your pet as a treat.
Your pet's dental health is a very serious issue. According to the American Veterinary Medical Association (AVMA), periodontal disease is the most commonly diagnosed health concern in dogs and cats. Periodontal disease is a chronic infection, and it has been linked to; Diabetes, Heart attacks, Strokes, Kidney disease, Tooth loss, and other life-threatening disorders.
FMI – < click to read – Health & Wellness – Pet Dental Care > < click to listen to Podcast – Dental Care for Pets 2019 with Dr. Katie Carter – 26JAN19 >
The active ingredient in ProDen PlaqueOff® is a specially selected algae harvested in the North Atlantic, Norwegian Seaweed (D1070). ProDen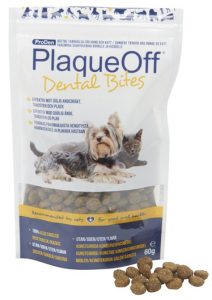 PlaqueOff® Powder has been found to have specific beneficial effects for oral care, reducing bad breath by up to 63% after 12 weeks and reduces plaque by up to 35% after the first eight weeks. It may be used with both dogs and cats. PlaqueOff® Powder comes in a granulated form which is easily added to your pet's food every day. It is rich in natural iodine and contains important vitamins and minerals. Unlike many other dental products for pets, PlaqueOff® is free from artificial colors, preservatives, gluten, and sugar. ProDen PlaqueOff® Powder Cat contains all the benefits of ProDen PlaqueOff® Powder, but with added brewer's yeast.
Don and Paula started using PlaqueOff® Powder with their cat Boomer in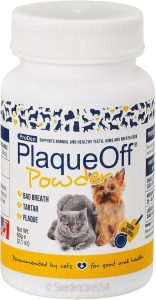 October of 2017. In three months they saw enough improvement with his teeth that they decided to add PlaqueOff to the products we sell at Green Acres.
ProDen PlaqueOff® Dental Bites deliver all the benefits of PlaqueOff® Powder, inconvenient and tasty little bites your pets will love! Dental Bites are grain and gluten free as well as vegetarian! They are free from additives, sugar, and artificial preservatives. They prevent dental plaque from sticking to the teeth and soften already existing tartar deposits.
Don and Paula's dog Muppy gets two PlaqueOff® Dental Bites at bedtime every night to help her keep keep her beautiful smile.
PlaqueOff® Dental Bites and PlaqueOff® Dental Powder have been accepted by the Veterinary Oral Health Council (VOHC). VOHC exists to recognize products that meet pre-set standards of plaque and calculus (tartar) retardation in dogs and cats. Products are awarded the VOHC Seal of Acceptance following review of data from trials conducted according to VOHC protocols. The VOHC does not test products itself. Regular use of products carrying the VOHC Seal will reduce the severity of periodontal disease in pets.
Recommended Resources
Health & Wellness – Pet Dental Care – < Click to Read >
Podcast – Pet Dental Care with Dr. Katie Carter from River Road Veterinary Hospital – 2019 – < Click >
Web Sites
ProDen PlaqueOff® website – https://www.swedencareusa.com/
Veterinary Oral Health Council website – http://www.vohc.org/
©4-Feb-19, Donald J. Hanson, All Rights Reserved
< Click for Copyright and Use Policy >