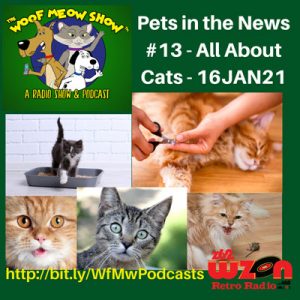 < Click to Listen to Podcast >
< Updated 16JAN21 >
< A short link for this page – insert link >
In this episode of The Woof Meow Show from January 16th, 2021, Kate and Don focus on our feline friends. They start by discussing an article entitled "What Makes A Cat" by Dr. Liz Bales that suggests how we can improve our cat's lives. Bales notes: Just about everything you need to know about cats comes down to one thing. Hunting.
Next, we look at an article that discusses a new study concerning the most common behavior problem in multi-cat homes; the litterbox. Feline Litter Box Problems: The Needs of the Many reports that when one cat is not using the litterbox, all of the cats in the household are experiencing stress, and thus all cats should be treated.
Then Kate discusses an article on feline nail trims. We close with an article from Dr. Karen Becker that discusses the use of an "eye blink" in establishing trust with a cat. You will find links to all of the articles on Don's blog and the Woof Meow Show podcast page.
You can listen to The Woof Meow Show on Z62 Retro Radio, AM620, and WKIT HD3 at 9 AM on Saturday. If you are not near a radio, listen on your computer at http://bit.ly/AM620-WZON or your smartphone or tablet with the free WZON 620 AM app. A podcast of the show is typically posted immediately after the show. You can download this show and others at http://bit.ly/WfMwPodcasts , at Don's blog http://bit.ly/Words-Woofs-Meows and the Apple iTunes store.
< Click to Listen to Podcast >
Contact Info
Don Hanson & Kate Dutra
Green Acres Kennel Shop & The Woof Meow Show
Bangor, ME
(207) 945-6841
https://www.greenacreskennel.com/
https://www.facebook.com/GreenAcresKennelShop/
https://woofmeowshow.libsyn.com/
https://www.facebook.com/WoofMeowShow/
Recommended Resources
Links to Articles in the Podcast
 Cat Behavior – Inappropriate Elimination (Urination & Defecation) – http://bit.ly/Cat-Inapp-ElimUrin
Cat Litter: Who Gets to Choose? – http://bit.ly/CatLitter-Choices
Cat Behavior – Make Your Life Easier – Get Your Cat to Love Their Carrier – http://bit.ly/Cats-Carriers
©16JAN21, Donald J. Hanson, All Rights Reserved
< Click for Copyright and Use Policy >