< Updated 28MAR20 >
< A short link for this page – http://bit.ly/GAKS_Kids_DogsResources >
Dogs and children can become wonderful companions. However, do not assume for one second that a dog and a child will automatically enjoy one another and
live together harmoniously every moment of their lives. Parents need to teach both child and dog how to interact with one another appropriately.
Most children have multiple caregivers; parents, grandparents, older children, other family members, babysitters, and more. Therefore, ALL caregivers must be knowledgeable about dogs and infants, toddlers, children, and young adults and how to manage their interactions.
Below I have listed resources I believe you will find useful in working with your children and dog. These are my favorites resources on the subject.
Books
A Kids' Comprehensive Guide to Speaking Dog! By Niki Tudge – If your family includes children and a dog, if you have children that spend time with friends
and family members that have a dog, or if you have a dog that spends any time around children, you, your children, and your dog will benefit from this book. This is not a book you hand to your child, but it is a book you need to read with them. You can read our full review by clicking this link http://bit.ly/BkRvw-KidsGuide-Tudge
The Doggone Safe website – https://doggonesafe.com/
Living with Kids and Dogs…Without Losing Your Mind: A Parent's Guide to Controlling the Chaos by Colleen Pelar – This book
provides a realistic, down to earth discussion about how to successfully manage the probable mayhem that accompanies a home with dogs and kids. You can read our full review by clicking this link http://bit.ly/BkRwv-LvngKidsDogs-Pelar
Colleen's website – https://www.livingwithkidsanddogs.com/
Family Paws Parent Education
( https://www.familypaws.com/ )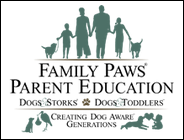 Working to increase safety and reduce stress in homes with young children and family dogs.
Free Downloadable Handouts from Family Paws
Click on the title to view/download as a PDF
Pet Professional Guild Junior Membership
( https://www.petprofessionalguild.com/Junior-Members )
Is your child actively participating in the care and training of the family pets? If so, I encourage you to consider enrolling them in the Pet Professional Guilds
(PPG) Junior Membership Program. The program helps children learn and understand about pet care and training and will be especially beneficial to those contemplating working with pets as a volunteer or as a career. There are three levels to the program; Basic (for ages 8 to 12), Advanced (for ages 13 to 17), and Apprentice (for ages 18-20).
The PPG Junior Membership program allows participants to earn preliminary credentials in force-free pet care. Junior Members receive a membership badge and certificate and a free e-book –A Kid's Comprehensive Guide to Speaking Dog. They will also be invited to participate in the Annual Training Deed Challenge. All Junior Members also have access to the Provisional Junior Accreditation Program for their age group, as administered by the Pet Professional Accreditation Board (PPAB). Junior Members who successfully complete the accreditation process and receive an accreditation card will receive a 50% discount on the Green Acres Kennel Shop training class of their choice.
The Pet Professional Guild (PPG) is a membership organization representing pet industry professionals who are committed to results-based, science-based, force-free training, and pet care. Members include veterinarians, veterinary technicians, behavior consultants, dog trainers, dog walkers, pet care technicians, pet sitters, and groomers. PPG represents training and behavior professionals across many species. All members of the Green Acres Kennel Shop staff are members of the PPG.
What Is Dog Training – http://bit.ly/WhatIsDogTraining
How to Choose a Dog Trainer – http://bit.ly/HowToChooseADogTrainer
A Recommended Reading and Listening List for Pet Care Professionals – http://bit.ly/ForPetCarePros
Podcast – The Woof Meow Show – Babies, Toddlers, Kids & Dogs with Jennifer Shryock from Family Paws Parent Education, aired 28MAR20 – < bit.ly/WfMw-Kids_Dogs-28MAR20 >