Don Hanson explains how to keep the momentum going once you have signed the Shock-Free Pledge
<A version of this article was published in the March 2018 issue of Barks from the Guild, a publication of the Pet Professional Guild>
< A short link to this page – http://bit.ly/BARKS-ShockFreeMAR2018 >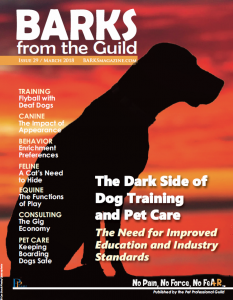 I have been waiting for an organization of pet professionals to take a stand against the use of shock collars since 2002, so when PPG launched the Shock-Free Coalition on September 25, 2017, I was more than ready to sign the pledge to eliminate shock devices
from the supply and demand chain. However, I also knew that signing the pledge, while an important step, was not going to be sufficient to stop the use of shock collars. Signing the pledge is just the beginning of what will very likely be a long campaign.
In addition to signing the pledge, as many of us as possible must commit to educating others in our profession, other pet professionals, and pet parents about the dangers of shock. This educational effort will also require that many of us become advocates and publicly speak on behalf of dogs, who cannot speak for themselves.
Critical elements of being an advocate involve writing and public speaking and presenting logical and scientifically-based arguments for our position while being respectful of those that disagree with us. I know there are many reasons that not everyone in our profession is comfortable being an advocate. Some may have a fear of public speaking, an instinct to avoid confrontation of any kind, or a concern about how taking a position on what some consider to be a controversial issue, may affect their relationship with current and prospective clients and their business's bottom line. These are all real concerns, and if they describe you, I understand. On the other hand, if you want to try to overcome these issues, know that there are others ready to help you.
How, then, do you get over the concern regarding how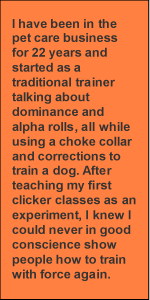 publicly taking a position may affect your business? This is not always easy. I have been in the pet care business for 22 years and started as a traditional trainer talking about dominance and alpha rolls, all while using a choke collar and corrections to train a dog. After teaching my first clicker class as an experiment, I knew I could never in good conscience show people how to train with force again. I threw out our existing curriculum, scrambled to create a new one, and our classes became force-free, pain-free, and fear-free. This change was made in spite of the fact that I feared we would lose many of our training clients and veterinary referrals.
I have to thank my friend Gail Fisher of All Dogs Gym in Manchester, New Hampshire for giving me the courage to do this. Fisher had a massive investment in correction-based training, both as an author and pet care professional, yet she made a complete transition to clicker training because she believed it was the best option for her clients and their dogs. As a result of my choosing to transition entirely to clicker training, my business has grown, and most of the veterinarians in our community became convinced of our kind, compassionate approach's efficacy. Also, I could sleep at night because I was no longer teaching people to "strangle their dog."
While I am comfortable speaking, writing, and arguing for a just cause, I know that ending shock will require similar actions by many of us. I am a firm believer in the concepts, "think globally, act locally" and that "many hands make light work." I thus decided to launch a Shock-Free Coalition in Maine where I live.
My first step was to contact all the PPG members in Maine and to invite them to join me. This was a logical first step as PPG members have already indicated their commitment to ending the use of shock collars simply by joining the organization. Indeed, Section One of PPG's Guiding Principles states: "Pet Professional Guild members understand force-free to mean: no shock, no pain, no choke, no fear, no physical force, no compulsion-based methods are employed to train or care for a pet." (Pet Professional Guild, 2017). Like I said, all PPG members have essentially committed to the pledge simply by becoming members.
I know many pet professionals in Maine who are not yet PPG members. However, because I was confident that they felt the same way about shock collars as I did, I invited them to join our cause. My second recommendation, then, is to contact other pet professionals in your community whom you know are already opposed to shock. If you get them to join your coalition, invite them to join PPG as well.
I have taken several actions as an individual, all of which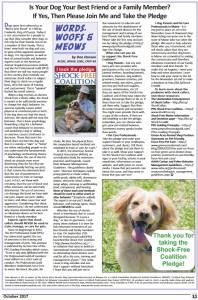 anyone can do, and I suspect many PPG members have already done too:
I sent out a press release with the news that my business, Green Acres Kennel Shop, has joined the Shock-Free Coalition. PPG makes this easy for us by offering a template.
I wrote an article for the October 2017 issue of Downeast Dog News titled Is Your Dog Your Best Friend or a Family Member? If Yes, Then Please Join Me and Take the Pledge which I also published on my blog. If you have a dog newspaper in your community, write an article and submit it. If you do not have a newspaper that focuses on dogs or pets, try your local weekly or daily paper. If you do not have a blog, start one.
I shared a link to my article, as well as an older article I had written (The Unintended Consequences of Shock Collars), on my personal Facebook page as well as my business pages (  https://www.facebook.com/GreenAcresKennelShop/  & https://www.facebook.com/WoofMeowShow/  & https://www.facebook.com/WordsWoofsandMeows/  ), and continue to do so on a regular basis. Share your articles and blogs on why shock-free is important, and do it more than once. There are some great software tools available to allow you to post to Facebook and Twitter on an automated basis. My favorite is Post Planner.
I included an article on the Shock-Free Coalition in the email newsletter my business sends to our clients and asked them to join us by taking the pledge. No matter how you stay in touch with your clients, keep them aware of the shock-free movement and your part in it.
I changed my profile picture and cover on my Facebook page, and those of my business pages, to encourage people to take the pledge. This is one of the easiest ways you can make others aware of the shock-free movement and your commitment to it.
I put up signage in our store promoting the Shock-Free Coalition and our commitment to the "No Pain, No Force, No Fear" philosophy. I also include PPG's "No Pain, No Force, No Fear" logo on much of our printed literature.
There is a large banner hanging on the lower half of our outdoor sign, proclaiming we have joined the Shock-Free Coalition.
The following are things I have done to promote the Shock-Free Coalition as an individual which may not be as easy for others, but they are worth exploring:
I invited Niki Tudge, PPG's founder, to be a guest on my weekly radio show,

The Woof Meow Show

, where we discussed the shock-free movement. If you do not have a radio show, find out who in your community does. Community-based radio programs are always looking for guests. In addition to hosting Tudge on my show, I have also been a guest on two other shows in our area that gave me an opportunity to discuss why shock-free is so important.
My co-host and I recorded a radio show/podcast titled

The Unintended Consequences of Shock Collars

as a companion piece to my blog post with the same title. I find it valuable to provide information in a variety of formats as some people prefer to listen to something rather than reading.
Our first group project in Maine was to place a full-page, color advertisement in the November 2017 issue of Downeast Dog News, a state-wide dog-centric newspaper. A total of 12 pet care professionals participated in the ad where we publicly announced our commitment to ending the use of shock and invited other pet care professionals and pet parents to join us. Since then, we have had an animal rescue organization join our cause, and I am in the midst of discussions with a large animal shelter and two veterinarians about joining us for our next advert.
My eventual hope is that other pet care professionals who might be on the fence will see the benefit to their bottom line if they take the pledge.
In addition to the ad, I have cobbled together a website describing our coalition's mission, providing a directory of shock-free pet professionals for pet parents, and announcing our next educational and advocacy events. Meanwhile, we are discussing our next steps as to how to grow our group and get more people actively participating.
If you have already signed the Shock-Free Pledge, thank you! If you have not signed it yet, it is imperative that you do so.
All of us that want to see shock eliminated as an option in pet training and behavior modification have much work to do. I will try to keep you informed of what we are doing in Maine, sharing what works and what does not. In the meantime, please share your stories with other PPG members so we can all benefit from what others are doing. Together
we can make the world shock-free!
References
Pet Professional Guild. (2017). Guiding Principles. Available at: bit.ly/PPGGuidingPrinciples
Resources
Hanson, D. (2017, October 1). Is Your Dog Your Best Friend or a Family Member? If Yes, Then Please Join Me and Take the Pledge. Available at: http://bit.ly/BestFriendsAndShock
Hanson, D. (2017, October 22). The Unintended Consequences of Shock Collars. Available at: http://bit.ly/ShockCollars
Shock-Free Coalition: https://www.shockfree.org/
Shock-Free Coalition News Release Template: bit.ly/ShockFreeCoalitionNews
Say No To Shock! (A List of Scientific Articles and More) – http://bit.ly/SayNoToShock
Shock-Free Coalition of Maine Facebook Page: http://bit.ly/ShockFreeMEFB
Shock-Free Coalition Sign the Pledge: https://www.shockfree.org/Pledge
Maine Pet Care Professionals We Recommend –  http://bit.ly/MEPetPros
The Woof Meow Show (Producer). (2017, September 30). The Pet Professional Guild and the Shock-Free Coalition with Niki Tudge [Audio Podcast]. Available at: http://bit.ly/PodCastShockFree-NikiTudge-2017
The Woof Meow Show. (Producer). (2017, October 21). The Unintended Consequences of Shock Collars [Audio Podcast]. Available at: http://bit.ly/ShockPodcast
Don Hanson ACCBC BFRAP CDBC CPDT-KA is the co-owner of the Green Acres Kennel Shop ( greenacreskennel.com ) in Bangor, ME where he has been helping people with their pets since 1995. He is a Bach Foundation Registered Animal Practitioner (BFRAP), Certified Dog Behavior Consultant (CDBC), Associate Certified Cat Behavior Consultant (ACCBC) and a Certified Professional Dog Trainer (CPDT-KA). Don is a member of the Pet Professional Guild (PPG) and is committed to PPG's Guiding Principles and the Pain-Free, Force-Free, and Fear-Free training, management, and care of all pets. Don produces and co-hosts a weekly radio show and podcast, The Woof Meow Show, that airs on Z62 Retro Radio WZON (AM620) and WKIT 103.3-HD3 and is streamed at http://bit.ly/AM620-WZON every Saturday at 9 AM. Podcasts of the show are available at http://woofmeowshow.libsyn.com/, the Apple Podcast app, and at Don's blog: www.words-woofs-meows.com.  The opinions in this post are those of Don Hanson.
©01MAR18, Donald J. Hanson, All Rights Reserved
< Click for Copyright and Use Policy >