< A version of this article was published in the June 2019 issue of Downeast Dog News >
< A short link to this article – http://bit.ly/Leashes-YES >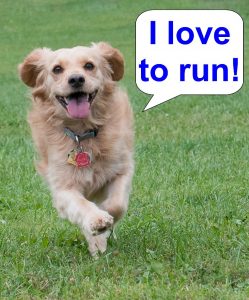 Dogs love to explore and run; both things they cannot enjoy while on a leash. For those and many other reasons, many of us look for opportunities where we can let our dog experience being free of the restrictions of being confined or tethered continuously to us. Watching a dog romp, zoom, and play is a joyous event for both you and your dog. However, allowing our dogs to be off-leash comes with serious responsibilities and obligations, which far too often are ignored.
Once the snow is gone people start walking their dogs again, tourists flood into Maine, and I start hearing complaints from clients, friends, and professional colleagues about dogs running loose and out of control in public places. These dogs and the people who enable them are often causing severe problems for people, other animals, and ultimately themselves. They are also triggering many communities to be more restrictive about where they will allow dogs to be off-leash. Before allowing your dog off-leash, please consider how doing so will affect others.
Some people allow their dog to run at-large because they believe their dog is "friendly." They need to understand that not every person enjoys having a strange dog charge into their space and sniff and jump on them in a bout of "unrestrained enthusiasm."  The fact is, some people are afraid of dogs, and a friendly dog that is out of control can cause them emotional trauma.
Also, the dog owners view of their dogs intent, "he just really likes people" does not matter if the dog's interactions are perceived by others as being threatening < FMI – Dangerous Dogs! – http://bit.ly/Dangerous-Dogs > Remember, even if someone is not afraid of dogs, a rampaging juggernaut can cause serious physical injury to a child, a senior citizen, and others. There is no valid excuse for allowing this to happen.
Dogs that are off-leash and not under control may also pose a serious threat to other people who have a dog that is afraid of other dogs that violate their space. I know of many people with reactive dogs who are diligently working with their dog to help them overcome their fears. They depend on being able to walk their dogs in areas where they will not encounter other dog's off-leash. When you allow your off-leash dog to charge a dog that is trying to work through their fear, you may have just significantly lengthened that dogs recovery program.
If you cannot keep your dog close to you and under control, they should not be off-leash except when they are on your property. Allowing your "friendly dog" to charge other dogs is not only unlawful but is disrespectful to others.
A dog that is allowed off-leash and is not adequately trained can instantly meet a tragic end if they run into the road. If you allow your dog to be off-leash, you need to be confident that you can recall your dog in ANY emergency. If not, you are putting your dog's life at risk. Remember, you and your dog will not be the only victim if your dog is killed because they ran in front of a car. Whoever was in the vehicle when the accident occurred will also be subject to the trauma of taking a life. Is that fair to them?
So What Are Your Legal Responsibilities If You Allow Your Dog Off-Leash?
Maine law states, "it is unlawful for any dog, licensed or unlicensed, to be at large, except when used for hunting." The law defines "at large" to be "off the premises of the owner and not under the control of any person whose personal presence and attention would reasonably control the conduct of the animal." < FMI – 7 MRS §3911 & 7 MRS §3907 >.
While "reasonable control" is not defined in the law, I believe that any dog training professional would explain it as "the dog immediately responds to a single visual or verbal cue from the owner in all situations and environments." To prepare a dog to recall at that level takes time, but I encourage every pet parent to make that commitment. However, be patient, do not expect a four-month-old puppy to have a reliable recall by the time they are six months old.
The best way to get your dog to off-leash reliability is to work with a trainer dedicated to Pain-Free, Force-Free, and Fear-Free training. < FMI – http://bit.ly/MEDogTrnrs >. The following link will take you to an article on my blog that will give you some tips on starting to teach a reliable recall < FMI – http://bit.ly/Come-Recall >
Should I Leash My Dog?
If you want guidance on deciding when your dog should be on-leash, I encourage you to print this infographic created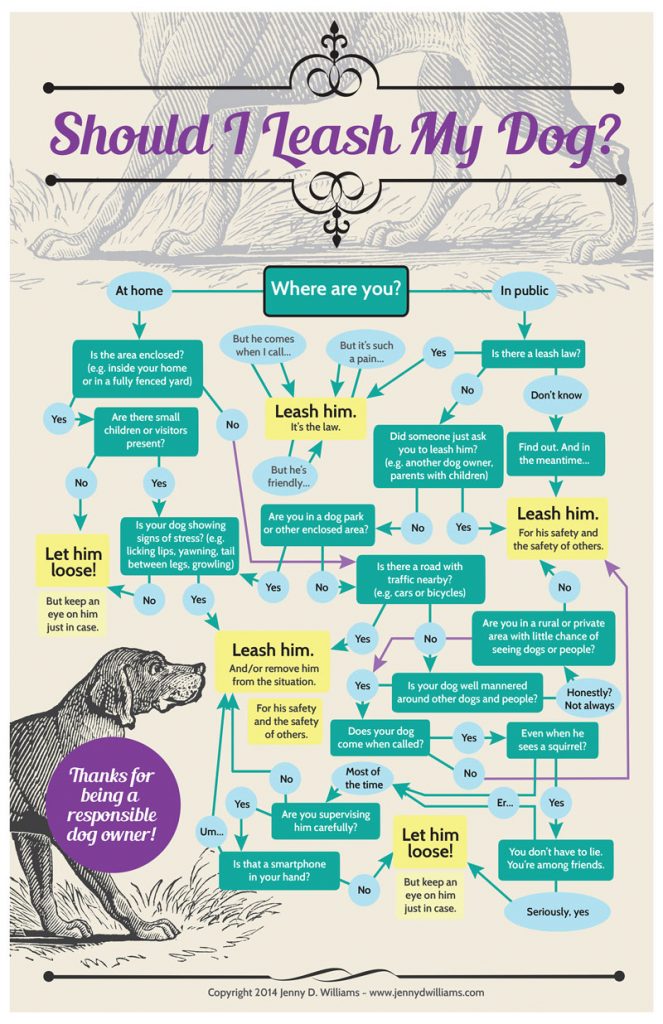 by Jenny D. Williams < FMI – http://bit.ly/ShouldILsh-PDF >. This visual decision-tree will give you a convenient way to assess if your dog and your community will be safe in various scenarios where you might allow your dog to be off-leash.
Please, think of others when you allow your dog off-leash. It is the right thing to do.
Recommended Resources
Dangerous Dogs! – What Shelters, Rescues, Prospective Adopters, and Owners Need to Know – http://bit.ly/Dangerous-Dogs
Maine Dog Trainers We Recommend – http://bit.ly/MEDogTrnrs
Teaching Your Puppy to Come When Called – Starting Points – http://bit.ly/Come-Recall
Other Online Resources
Maine State Law §3911. Dogs at large – http://www.mainelegislature.org/legis/statutes/7/title7sec3911.html
Maine State Law §3907. Definitions in Chapter 717: Animal Welfare Act – http://www.mainelegislature.org/legis/statutes/7/title7sec3907.html
Should I Leash My Dog Infographic – http://bit.ly/ShouldILsh-PDF
________________________________________________________________________
Don Hanson is the co-owner of the Green Acres Kennel Shop ( greenacreskennel.com ) in Bangor, ME where he has been helping people with their pets since 1995. He is a Bach Foundation Registered Animal Practitioner (BFRAP), Certified Dog Behavior Consultant (CDBC), Associate Certified Cat Behavior Consultant (ACCBC), and a Certified Professional Dog Trainer (CPDT-KA). Don is a member of the Pet Professional Guild (PPG) and is committed to PPG's Guiding Principles and the Pain-Free, Force-Free, and Fear-Free training, management, and care of all pets. Don produces and co-hosts a weekly radio show and podcast, The Woof Meow Show, that airs on Z62 Retro Radio WZON (AM620) and WKIT 103.3-HD3 and is streamed at http://bit.ly/AM620-WZON every Saturday at 9 AM. Podcasts of the show are available at http://woofmeowshow.libsyn.com/, the Apple Podcast app, and at Don's blog: www.words-woofs-meows.com.  The opinions in this post are those of Don Hanson.
©30-May-19, Donald J. Hanson, All Rights Reserved
< Click for Copyright and Use Policy >