< A version of this article was published in the December 2020 issue of Downeast Dog News>
< Updated 06DEC20 >
< A short link for this page – https://bit.ly/WhichTreats >
There are three typical reasons people give their dog treats. In order of importance, they are: 1) as reinforcement or rewards for desired behavior when training, 2) to keep them busy and occupied, and 3) "just because." These treats are all used for different purposes, so things that will treat "best" will vary depending on how the treat will be used. However, since all treats are meant to be ingested I look closely at that as sources of nutrition. I recommend looking for these essential qualities in all treats.
All Treats Must be Healthy and Nutritious
When I give my dog something to eat, I want it to be healthy and benefit them nutritionally. That means I need to be an informed consumer and review the
actual ingredients list on a package of treats and not let myself get seduced by the name or images on the packaging. Just like pet food, ingredients for treats must be listed in order by weight. When selecting treats for my dog, I want at least one of the top three ingredients to be a specified meat source. It should say something like turkey, chicken, or beef. Ingredients I avoid include; unidentified meat, poultry, by-products, sugar, propylene glycol, chemical preservatives such as BHA, artificial colors or dyes.
I also want to know the number of calories in each treat. Calories are typically reported as "kcal/treat."
Over 50% of the dogs in America are obese, which is the definition of unhealthy. The average 50-pound dog only needs 700 to 900 calories per day. Some dog biscuits are equivalent to a third of a dog's daily caloric intake and typically include low-quality ingredients, and are mostly carbohydrates. I prefer to give my dog high-quality calories in their food bowl rather than as a low-grade snack. Calories matter.
What I Look for in Training Treats
My treat bag always contains a variety of five or more different training treats. Some are high-value, meaning they are very palatable and usually at least ninety-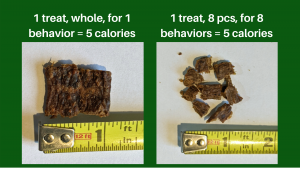 percent meat. Freeze-dried meat treats are ideal in this category. I also include many lower-value treats and many treats that fall somewhere between the two. However, all meet my standards for healthy and nutritious, as noted above.
While training treats must be highly palatable, they must also be small, about the size of a pea, so the dog can rapidly consume it. Training is all about rewarding the dog many times for the desired behavior. In a training session, I will typically try to get multiple behaviors per minute. If I need to wait for the dog to consume the treat, it decreases efficiency. It also increases the probability of the dog becoming distracted. Since I may reward the dog ten to twenty-five times in a 5-minute training session, I want the treats to be small to minimize caloric intake. One of the meat treats I frequently use comes out of the package as a 0.75" by 1" rectangle that contains 5 calories. Because the treat is soft, I break it up into 6 to 8 pea-size pieces, limiting calories to 0.6 to  0.8 calories per behavior. Treat companies would love it if I told you to use the entire treat because you would buy more, but you don't need to.
What I Look for in Treats Used to Keep My Dog "Busy"
Treats used to keep a dog "busy" should be thought of as snacks. Unlike a training treat, we want these treats to keep our dog engaged so that we can do something we need to do. I still want these treats to meet my healthy and nutritious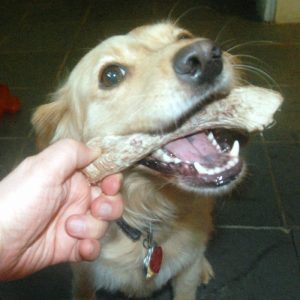 standards noted above. I will always look closely at the ingredients list. Products in the snack category include; bully-sticks, pigs' ears, beef tracheas, and a wide variety of freeze-dried products like chicken, duck, and turkey necks, cod, and salmon skins, and more. Smoked bones and frozen bones are also great, long-lasting snacks. Since all of these products are meant to be consumed and made from natural, non-manufactured ingredients, your dog needs to be supervised until you are confident that they will safely consume these snacks.
Also found in this category are No-Hide Chews, a long-lasting, easily digestible chew far safer than rawhides. And a Kong toy stuffed with some of your dog kibble and a dollop of peanut butter can also keep your dog busy. When Tikken was a puppy, a Kong would keep her occupied for up to an hour, after which she would take a long nap.
What I Look for in Treats I Give My Dog "Just Because"
Some of you might think I'm stingy, but it's rare I give a dog something edible for no reason at all. There is almost always some level of interaction with me, which makes it a training exercise my dog loves. The treats I use in this case are often in the snack category described above.
For many, "Just Because" treats are often dog biscuits or other products made of questionable ingredients. Biscuits can often be too high in calories and carbohydrates, both of which contribute to dog obesity.
Recommended Resources
 Green Acres Pet Nutrition Resources Page – http://bit.ly/GAKS_Nut_Home
GAKS Philosophy on Pet Nutrition – http://bit.ly/GAKS_Nut_Phil
Pet Foods We Offer At Green Acres Kennel Shop – http://bit.ly/GAKS_PetFood_Brands
Pet Nutrition – Which Companies Are Behind Your Pet's Food?  – http://bit.ly/PetFoodComp
Podcast – What We Feed Our Pets and Why, with – Don Hanson, Kate Dutra, and Linda Case  – https://bit.ly/WfMw-WhatWeFeed-11JUL20
________________________________________________________________________
Don Hanson is the co-owner of the Green Acres Kennel Shop ( greenacreskennel.com ) in Bangor, Maine, where he has been helping people with their pets since 1995. He is also the founder of ForceFreePets.com, an online educational resource for people with dogs and cats. Don is a Bach Foundation Registered Animal Practitioner (BFRAP), Certified Dog Behavior Consultant (CDBC), Associate Certified Cat Behavior Consultant (ACCBC), and a Certified Professional Dog Trainer (CPDT-KA). He is a member of the Pet Professional Guild (PPG). Don is committed to PPG's Guiding Principles and the Pain-Free, Force-Free, and Fear-Free training, management, and care of all pets. He serves on the PPG Steering Committee and Advocacy Committee and is the Chair of The Shock-Free Coalition ( shockfree.org ). Don produces and co-hosts a weekly radio show and podcast, The Woof Meow Show, that airs on Z62 Retro Radio WZON (AM620) and WKIT 103.3-HD3 and is streamed at http://bit.ly/AM620-WZON every Saturday at 9 AM. Podcasts of the show are available at http://bit.ly/WfMwPodcasts/, the Apple Podcast app, and Don's blog: www.words-woofs-meows.com.  The opinions in this post are those of Don Hanson.
©6-Dec-20, Donald J. Hanson, All Rights Reserved
< Click for Copyright and Use Policy >