< Click to Listen to Podcast >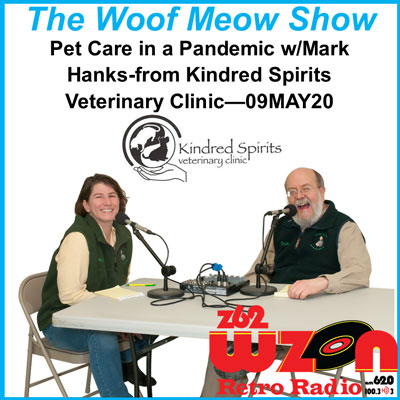 < Updated 11MAY20 >
< A short link for this page – https://bit.ly/WfMwHanks-9MAY20 >
In this episode of The Woof Meow Show from May 7th, 2020, Don talks with veterinarian Dr. Mark Hanks from the Kindred Spirits Veterinary Clinic in Orrington, Maine, about caring for our client's pets amid the COVID-19 pandemic. Topics addressed include:
Our current understanding of COVID-19 and how it affects dogs and cats
How the pandemic has affected Kindred Spirits and what they have learned
How the pandemic has affected Green Acres Kennel Shop and what they have learned
Concerns about how the pandemic may be adversely affecting pets
Our experiences with providing services online
Contact Info
Kindred Spirits Veterinary Clinic
Dr. Mark Hanks
857 River Rd, Orrington, ME 04474
(207) 825-8989
Website: https://www.kindredvet.com/
Facebook: https://www.facebook.com/kindredspiritsvet/
You can hear The Woof Meow Show on Z62 Retro Radio, AM620, and WKIT HD3 at 9 AM on Saturday. If you are not near a radio, listen on your computer at http://bit.ly/AM620-WZON or your smartphone or tablet with the free WZON 620 AM app. A podcast of the show is typically posted immediately after the show. You can download this show and others at http://bit.ly/WfMwPodcasts, at Don's blog http://bit.ly/Words-Woofs-Meows and the Apple iTunes store.