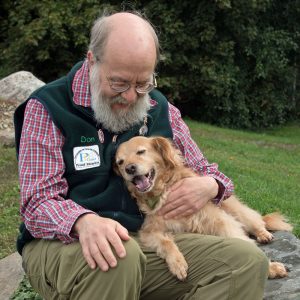 < A version of this article was published in the Winter/Spring 2021 issue of Humanely Speaking, the newsletter of the Bangor Humane Society >
< Updated 23FEB21 >
< A short link for this page – http://bit.ly/FriendshipTrust >
A friendship often begins when we discover that we have similar interests and values. We can share those interests because we easily communicate with one another. We speak the same language, but we also take ample time to listen and watch one another. Friends don't always agree, but because we are friends, we have learned how to teach one another to look at a different viewpoint, learn more about one another, and compromise. Eventually, we establish trust and become friends. It is imperative to achieve that level of understanding with our pets.
Cats and dogs are not humans. They have their own specific needs, interests, values, and ways of learning, often very different from those of humans. If we want a friendship with a pet, we need to take the time to learn about them and patiently give them time to learn about us. Only then will we develop the trust that will be the foundation of our friendship.
Two of my favorite books about cats and dogs were written by John Bradshaw. I encourage you to read them and use them to guide your relationship with your furry friend.
Cat Sense: How the New Feline Science Can Make You a Better Friend to Your Pet, John Bradshaw, Basic Books, 2013 – I first read John Bradshaw's two
previous books on cats; The True Nature of the Cat and The Behaviour of the Domestic Cat back in 2003. Cats, and specifically cat behavior is still under-researched compared to dogs, but Cat Sense nicely sums up what we do know. Bradshaw also discusses how the cat and society are changing and suggests what that means for the cats' future. Bradshaw has posed some important questions and concerns about neutering and breeding which merit further discussion and action.
Dog Sense: How the New Science of Dog Behavior Can Make You A Better Friend to Your Pet, John Bradshaw, Basic Books, 2011,
2012 – Dr. John Bradshaw is an animal behaviorist and if you look at recent scientific papers on dog or cat behavior, you will often find Bradshaw listed as one of the authors.  In Dog Sense, Bradshaw summarizes the latest research for dog lovers like you and me. Topics he covers include; how the dog evolved, the fallacy of the dominance construct, how the dog's role in society is changing and how that has led to higher expectations for non-dog like behavior and how these changes might affect the dog's future. He addresses breeding issues and how the dog fancy's focus on appearance rather than temperament and health may threaten the existence of many breeds. He also talks about how dogs learn and how research has demonstrated the many advantages of positive reinforcement/reward-based training over the old training model based on force and intimidation.
______________________________________________________________________________
Don Hanson owns the Green Acres Kennel Shop ( greenacreskennel.com ) and ForceFreePets.com and is the producer and host of The Woof Meow Show, a radio show/podcast about people and their pets.
Recommended Resources
Recommended Resources for People with Pets – http://bit.ly/KnowledgeforPetParents
Book Reviews – Do You Really Know Your Dog? – Part 1 – http://blog.greenacreskennel.com/2014/11/01/book-reviews-do-you-really-know-your-dog-part-1/
Book Reviews – Do You Really Know Your Dog? – Part 2 – http://blog.greenacreskennel.com/2014/12/01/book-reviews-do-you-really-know-your-dog-part-2/
 ©23FEB21, Donald J. Hanson, All Rights Reserved
< Click for Copyright and Use Policy >