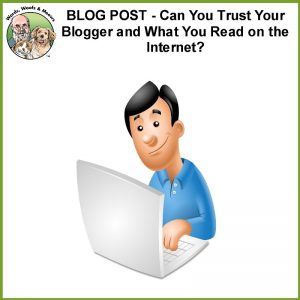 As the internet has grown, blogging has become very popular. It's a great medium for a writer to share their thoughts and an easy means for a reader to learn something new. However, as we've learned from that famous commercial for State Farm Insurance just because it's on the internet does NOT mean it's true. Likewise, just because someone writes about something and posts it online does not mean that they have any qualifications to be posting on a particular topic. Lastly, some bloggers, like myself, write to share information and do so freely. I get no financial remuneration for anything that I post on my blog unless after reading something you decide to utilize the services of my business. However, some bloggers are compensated every time you read their work or are compensated by companies for posting articles that promote certain companies and products. For example, my wife and I, and Paula is not a blogger, recently received the following email:
Dear Don & Paula,
We are reaching out to you to invite you to participate in our sponsored paid post program. While conducting research we identified your company's blog as an excellent fit to help us create awareness of our brand and product. We'd love to inform your readers about how Company with Questionable Ethics [NOTE: I changed the company name for the purposes of this post] can be used to help keep dogs safe in the home and yard. We are limiting participation to 10 bloggers on a first come, first serve basis.
As a sponsored host, you will receive a payment of $225 USD via PayPal upon publication of an article on invisible fencing options. Additionally, we will give you a $25 Amazon gift card for one winner to serve as an incentive for your readers to engage by either commenting or sharing the post on social media.
Because we want our messaging to be aligned to your readership, you may choose to either write an article from your perspective as a pet services provider, or you may choose to post an article provided by us and specifically crafted for your blog [emphasis added].
If you decide to participate we do need the post to be published no later than August 7 and the giveaway winners selected no later than August 14. If we find that you are an influencer, we will add you to our list of preferred bloggers and invite you to participate on additional paid and sponsored blogging activities.
The small print:
The article must include several do-follow links to informational material on our website. You may indicate this is a sponsored post.
We are happy to help you by engaging in conversation with your readers and addressing concerns regarding dog fences.
Attached is a sample sponsored post. If you agree to participate, we will provide you with more specific guidelines for posting. Please let me know if you have any questions. Thank you.
Now obviously this company did not research me or Green Acres Kennel Shop very well or they would have discovered that the likelihood of me posting anything on my blog recommending shock collars is non-existent. However, I suspect that they use this approach because it works and unfortunately for dogs and the people who love them, found 10 bloggers who played along and just like Judas received their 30 pieces of silver, or in this case $225.
The point to this post: Be careful out there, not everything you read is true, and not everyone will be honest with you. Endorsements by celebrities and less-than celebrities are often far from honest and nothing more than paid advertising made to appear as sincere belief.
Not sure why I wouldn't recommend a shock collar? <Click here>
©2015, Donald J. Hanson, All Rights Reserved <Click for Copyright and Use Policy>