< Click to Listen to Podcast >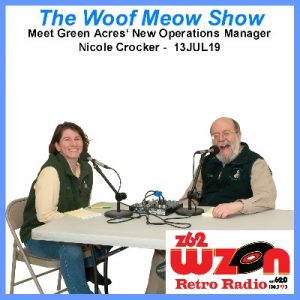 In this episode of The Woof Meow Show from July 13, 2019, Kate and Don interview Nicole Crocker, Green Acres Kennel Shops new operations manager. We discuss Nicole's pets as a child, how she became a pet care professional, and why she came to Maine. Join us and learn about the newest member of the Green Acres Kennel Shop team.
You can hear The Woof Meow Show on Z62 Retro Radio, AM620, and WKIT HD3 at 9 AM on Saturday. If you are not near a radio, listen on your computer at http://bit.ly/AM620-WZON or your smartphone or tablet with the free WZON 620 AM app. A podcast of the show is typically posted immediately after the show. You can download this show and others at http://woofmeowshow.libsyn.com/ , at Don's blog http://bit.ly/Words-Woofs-Meows and the Apple iTunes store.
< Click to Listen to Podcast >
©13JUL19, Donald J. Hanson, All Rights Reserved
< Click for Copyright and Use Policy >