< Updated – 1APR19 >
< A short link to this page – http://bit.ly/ShockWHTM28MAR19 >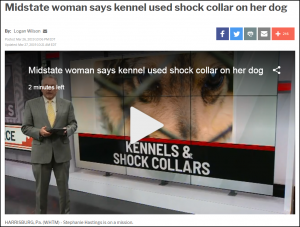 This story from WHTM ABC 27 in Harrisburg, PA dated March 27th, 2019, interviews Stephanie Hastings who left her dog Becker in the care of a boarding kennel in Pennsylvania. Becker came home from the kennel acting withdrawn and, "… he looked broken when he came back." "She took her dog Becker to a veterinarian who concluded the injuries were related to a shock collar or shocking incident."
< Click to view >
"He had marks on his neck that looked like burn marks of what I initially thought were bite marks, but it turned out to be shock collar burns on his neck and he didn't go in with them," said Hastings."
Hastings later learned that it is legal in Pennsylvania for a boarding kennel to use a shock collar on a dog. Stephanie Hastings is now on a mission to strengthen animal cruelty laws in Pennsylvania.
I'm sharing this report because this same thing could happen in Maine as there is nothing in Maine state law to prevent this type of abuse. When you board your dog, please verify that your kennel would NEVER use or recommend shock collars or any aversive for any reason. I suggest that you ask the same of your trainer, groomer, daycare, veterinarian and basically any pet care facility including shelters, humane societies and rescue groups.
You can also ask your pet care professional if they are a member of the Pet Professional Guild (PPG) and comply with the PPG Guiding Principles which explicitly prohibit the use of pain, force, or fear in the care, confinement, and training of pets. The PPG is the only USA based organization of pet care professionals that have policies in place that require compliance with their guiding principles.  When I am asked to recommend another pet care professional, the first thing I look for is one that is a member of the PPG. < Click to Find A PPG Member >
The PPG and the American Animal Hospital Association (AAHA) both have policies in place that state aversives (alpha rolls, beating, cattle prods, choke collars, dominance downs, electronic shock collars, lunge whips prong (pinch) collars, shock collars, anything aversive) should NEVER be used with pets.
You can watch and read the report by Logan Wilson at < https://www.abc27.com/investigators/investigations/midstate-woman-says-kennel-used-shock-collar-on-her-dog/ >
Recommended Resources
Articles on Don's Blog
Say No To Shock! – A list of Scientific Articles, Laws and Regulations, Mass Media Articles, Blog Posts, and Articles on Websites, Podcasts, Position Statements, and Website and Social Media Pages that address the abusive use of electric shock in the training, care, management, and containment of pets. – http://bit.ly/SayNoToShock
The Unintended Consequences of Shock Collars –  http://bit.ly/ShockCollars
Podcasts from The Woof Meow Show
 The Woof Meow Show: The Pet Professional Guild and the Shock-Free Coalition with Niki Tudge – http://bit.ly/PodCastShockFree-NikiTudge-2017
The Woof Meow Show: The Unintended Consequences of Shock Collars – http://bit.ly/ShockPodcast
Web Sites and Social Media Pages
The Shock-Free Coalition – https://www.shockfree.org/
The Shock-Free Coalition on Facebook – https://www.facebook.com/shockfreecoalition/
The Shock-Free Coalition/Maine Chapter – https://www.shockfree.org/Chapters/Maine
The Shock-Free Coalition/Maine Chapter on Facebook – https://www.facebook.com/ShockFreeCoalitionMaine/