Puppy Headstart – Daycare
< Last Updated 10DEC20 >
< Short link – https://bit.ly/GAPuppyHeadstart-Daycare >
During your puppy's socialization period, from 8 to 16 weeks of age, they must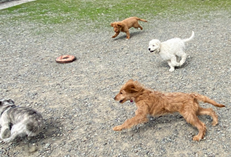 have opportunities to interact with other puppies of a similar age, size, and playstyle. That's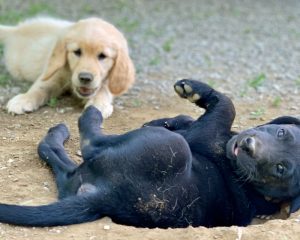 difficult to do with today's busy lifestyles but even more difficult during a pandemic. By enrolling your puppy in the Green Acres Puppy Daycare program, they will have just such an opportunity under the watchful eyes of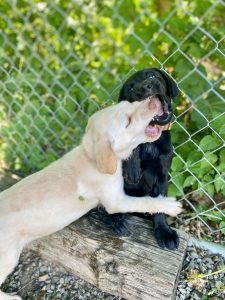 our experienced and knowledgeable training and pet care team.
Each puppy will have two outdoor playtimes, approximately 20 minutes in length, with carefully selected playmates. There will be a minimum of one staff person for every five puppies. When not out for playtime or other interactions, your puppy will be secure in their own indoor/outdoor run, the same ones used by our boarding guests.
In between play sessions, your puppy will be given a food toy stuffed with treats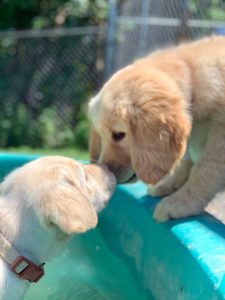 to provide them with self-rewarding mental stimulation. If you are feeding your puppy a midday meal, bring it along, and we will make sure they receive it. Your puppy may also spend some time with our groomer, who will acclimate them to standing on the grooming table, the nail trimmers, and other grooming tools.
Our Puppy Daycare team is exceptionally knowledgeable about canine behavior and communication. They will watch for opportunities to reward your puppy, such as giving them a small, pea-sized treat when they choose to sit rather than jump on them. They will also manage your puppy, and it's environment to prevent unwanted behavior.
Puppy Daycare is not a substitute for you training your puppy at home, as you are learning in our Puppy Headstart class. However, it is an excellent opportunity for your puppy to experience other people and puppies in a controlled and safe environment. We hope your puppy will join us!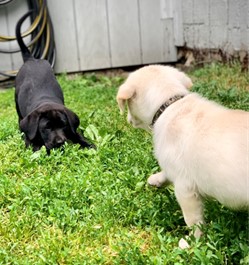 Puppies enrolled in our ONLINE Puppy Headstart class receive a coupon good for one free day of Puppy Daycare, a $15 value. Puppies must be current on required vaccines, and a reservation for daycare is needed. Currently, Puppy Daycare is available on TUE, WED, and THU. You may book additional days of Puppy Daycare if you choose, at a discounted rate of $15/day, up until your puppy is six months of age.
After that, you would pay our standard daycare rate which is currently $27 per day.